Leading Implantable Plastics Manufacturer Adopts Touchless Biometrics and Temperature Screening via IXM TITAN with Enhancement Kit for Workforce Management
Toronto, Canada (March 9, 2021) – Invixium, a premier manufacturer of innovative touchless biometric solutions, has been selected to supply a touchless, temperature-based attendance system including IXM TITAN with Enhancement Kit for Orthoplastics, a world leader in the development and supply of both implantable-grade plastics and also biocompatible plastics for instrument applications, and part of the Viant Corporation, a global strategic provider of ISO-certified medical components and devices. Orthoplastics set out to migrate from card-based time clockins to touchless face recognition and temperature screening as part of their response to the COVID-19 pandemic.
Essential Businesses Face New Challenges During COVID-19
For 30 years, Orthoplastistics has led the UHMWPE manufacturing industry in producing the highest grade of orthopaedic UHMWPE and medical devices on the market along with a complete supply chain solution via their portfolio of products and services. UHMWPE is a highly durable, FDA-compliant, temperature-and-impact-resistant plastic ideal for human joint replacement. The two facilities at Orthoplastics are about 50 kilometers north of Manchester, UK and offer a combined size of over 50,000 square feet of manufacturing, lab and office space. These advanced facilities with state-of-the-art plastics fabrication and laboratory technology allow Orthoplastics to achieve both high quality and high customizability to their customers' needs.
Orthoplastics is highly focused on ensuring the health and safety of all staff and visitors at their facilities, and has resumed safe operations as of April 2020. As well as stringent social distancing measures and abundant access to hand sanitizer and personal protective equipment at work, contactless temperature screening is a crucial element of Orthoplastics's effort to protect individuals on site. As a manufacturer of essential medical plastics, Orthoplastics cannot shut down, but must instead take every step necessary to keep employees healthy.
Thus, screening all employee temperatures at the beginning of each work shift has been adopted as a reasonable measure to ensure those showing one of the main symptoms of COVID-19 are alerted to their potential fever and not permitted to enter the workplace. So, Orthoplastics invested in manual temperature screening, which remains a common solution among businesses that needed to adapt quickly to work in-person during COVID-19. However, this process quickly added up in cost because staff needed to be paid overtime to screen other employees' temperatures during shift changes. As the pandemic persisted in length, Orthoplastics realized that it needed a more permanent solution to keep long-term costs down while protecting employee health and adhering to national guidelines.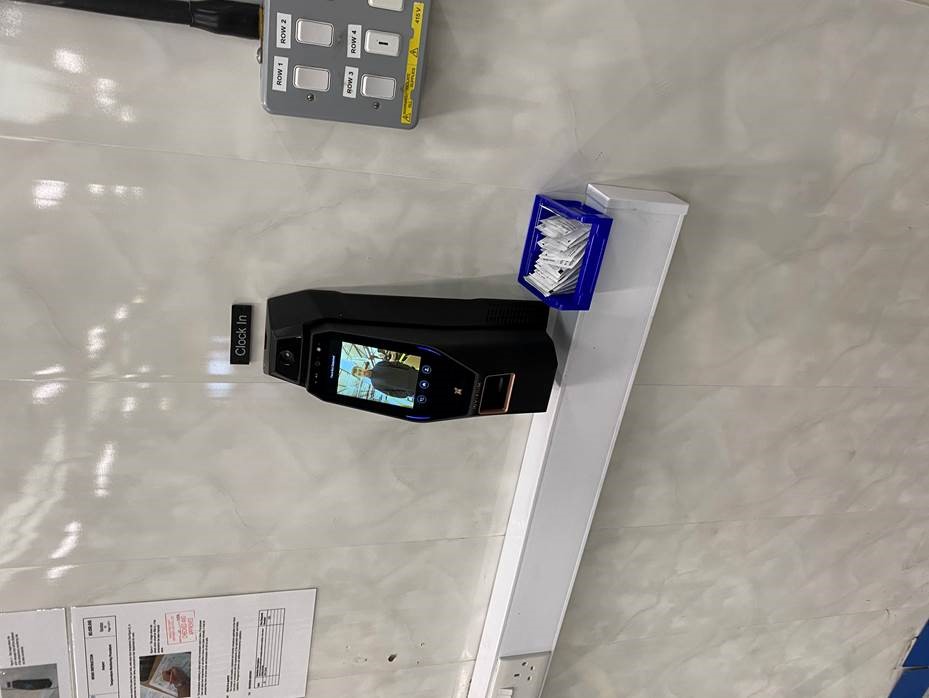 Touchless Temperature Screening Transforms Employee Time Tracking
Invixium's COVID-19 solution was introduced to Orthoplastics by a system integrator customer of Invixium distribution partner CQR Security that has positioned IXM TITAN with Enhancement Kit as one of its leading security solutions. Orthoplastics ordered IXM TITAN with Enhancement Kit devices to support a staff of 200 spread across two facilities: a manufacturing plant and an office space. For an effective installation, Orthoplastics required that any temperature-based solution will communicate employee clockins with Paxton Net2's timesheet feature. IXM TITAN with Enhancement Kit was selected for its contactless, automated face recognition and temperature screening along with an established Net2 integration via IXM Link that allows clockins from TITAN to be immediately imported to the time tracking software.
In response to CQR's recommendation of Invixium's touchless temperature screening and face recognition solution, Managing Director Stuart Adams said, "Security is at the heart of what we do at CQR. Being able to offer our customers the Invixium touchless face recognition and temperature screening solution to ensure the security of their buildings and support the safety of their staff throughout the pandemic is something we are proud of."
After several months of use, Orthoplastics and Invixium are proud to share that this installation has been highly successful. Since installing TITAN and the Enhancement Kit, Orthoplastics has migrated to fully touchless face recognition and temperature screening instead of card-based time tracking and manual temperature evaluation. Because of this success, Orthoplastics has expressed interest in scaling up their Invixium system with additional IXM TITAN with Enhancement Kit devices.
"Here at Orthoplastics, our priority is always our people. We are doing everything we can to make sure that our employees' health, safety and well-being is at the core of everything we do," said Mark Allen, Managing Director at Orthoplastics. "Aside from the changes to the workplace and our working practices, we have also implemented a COVID team who regularly meet to review the latest government advice to make sure we are following the most up to date guidelines and whether there are any further actions required to remain COVID secure. We have kept employees up to date and made sure they are involved in any changes to working practices to ensure the safety measures are adhered to and effective."
"The effect of installing IXM TITAN with Enhancement Kit has been quite positive," said Mark Hereward, Business Systems Director at Orthoplastics. "When the pandemic began, we needed to pivot very quickly to an appropriate and effective system for protecting staff health throughout the day. Along with making PPE available and enforcing social distancing, temperature screening during shift changes has been a great help for us. The installation of TITAN was very easy to get up and running, and we're pleased with how Invixium supported our transition to a touchless time tracking system."
"Invixium has always taken pride in assuring employee safety and security through impeccable biometric products," says Shiraz Kapadia, CEO & President at Invixium. "Our installation at Orthoplastics highlights this commitment and accentuates how security has evolved to encompass employee health in light of COVID-19. We are very proud that our advancements in biometric solutions have enabled Orthoplastics to offer employees a healthy, safe, secure and productive work environment."
For more information, visit:
www.invixium.com
www.cqr.co.uk