As a market valued globally at $13 Trillion in 2019, the construction industry supports the livelihoods of millions of workers, and millions more depend on their efforts to build residences, offices, government and civil engineering projects and sports, entertainment and recreational structures.
From remote areas to large cities, construction sites are subject to widely varying environments and each site's specific conditions, including airborne contaminants, chemical exposure and other challenges. Managing and protecting large workforces under these conditions, sometimes spread over enormous worksites or multiple locations is a prime task of construction firms.
Controlling access to construction sites serves multiple important purposes: tracking time and attendance is the top need, but restricting access to unauthorized persons reduces enterprise risks, including theft, mischief and accidental injuries.
Hundreds of workers may be scheduled to begin a shift at the same time, creating the potential for significant entry congestion and delays. For larger firms, this concern is multiplied across multiple work shifts and sites, made even more challenging by large shift changes when hundreds or thousands of people leave and enter at the same time.
COVID-19 adds another layer of complexity to these businesses' check-in process: with government mandates requiring social distancing at work, managers are revising entry protocols and daily operations. Understandably, workers have concerns about their and their families' health as they come to work. Many businesses are beginning to incorporate health checkpoints as part of the process to alert managers when workers arrive that may need further health screening, while also reassuring workers that steps are being taken to protect their health.
To answer all of these concerns, construction firms require fast, touchless workflows durable enough for a world's worth of conditions. Construction companies are exploring biometric authentication methods because they promise rapid, efficient authentication and time tracking. And, the most advanced biometric systems support health screenings during entry. With accurate payroll, business profitability, site security and workers' health at stake, leading construction enterprises are looking seriously at security and workforce management systems that have high accuracy and comprehensive built-in features while minimizing the complexity of workflows and maintenance tasks.
Unique Security Conditions Faced by Construction Sites
Construction businesses need a new solution to meet their unique needs, including new security plans in response to COVID-19. The industry's most pressing concerns are:
Simple and quick construction employee clock-in workflow

To support large workforces and their productivity, attendance solutions on construction sites need high speed and accuracy. Delays in entry not only cost enterprises and workers time and productivity, but also increase the risk of crowding at doors – leading to potential exposure to illness. Clock-ins need to be simple so workers can spend less time waiting to enter the worksite. Further, high accuracy is required to prevent accidental or intentional time theft.

Ruggedness to withstand challenges from weather and worksite factors

Typical construction sites are exposed to the elements, so on-site security needs to withstand a range of possible weather conditions: high heat or cold, rain, dust or snow and bright or dim lighting. For long life, and to maintain safety in construction conditions, deployed security hardware should be rugged and industrial-grade quality.

Contactless health checks

Governments now require construction worksites to add temperature screening to their entry protocols. Temperature checks should be rapid and touchless to maintain efficiency, as well as minimize the potential for crowding and illness transmission by contact. Just one case of illness would lead to an entire shift being quarantined, resulting in significant financial loss.

Management of employees across many locations

Construction businesses have hundreds or thousands of employees assigned to different shifts and work sites – but administration may be located in a single office. To manage their staff remotely and ensure multi-site security, administrators need an access control system that integrates with their existing Access Control System or HRMS.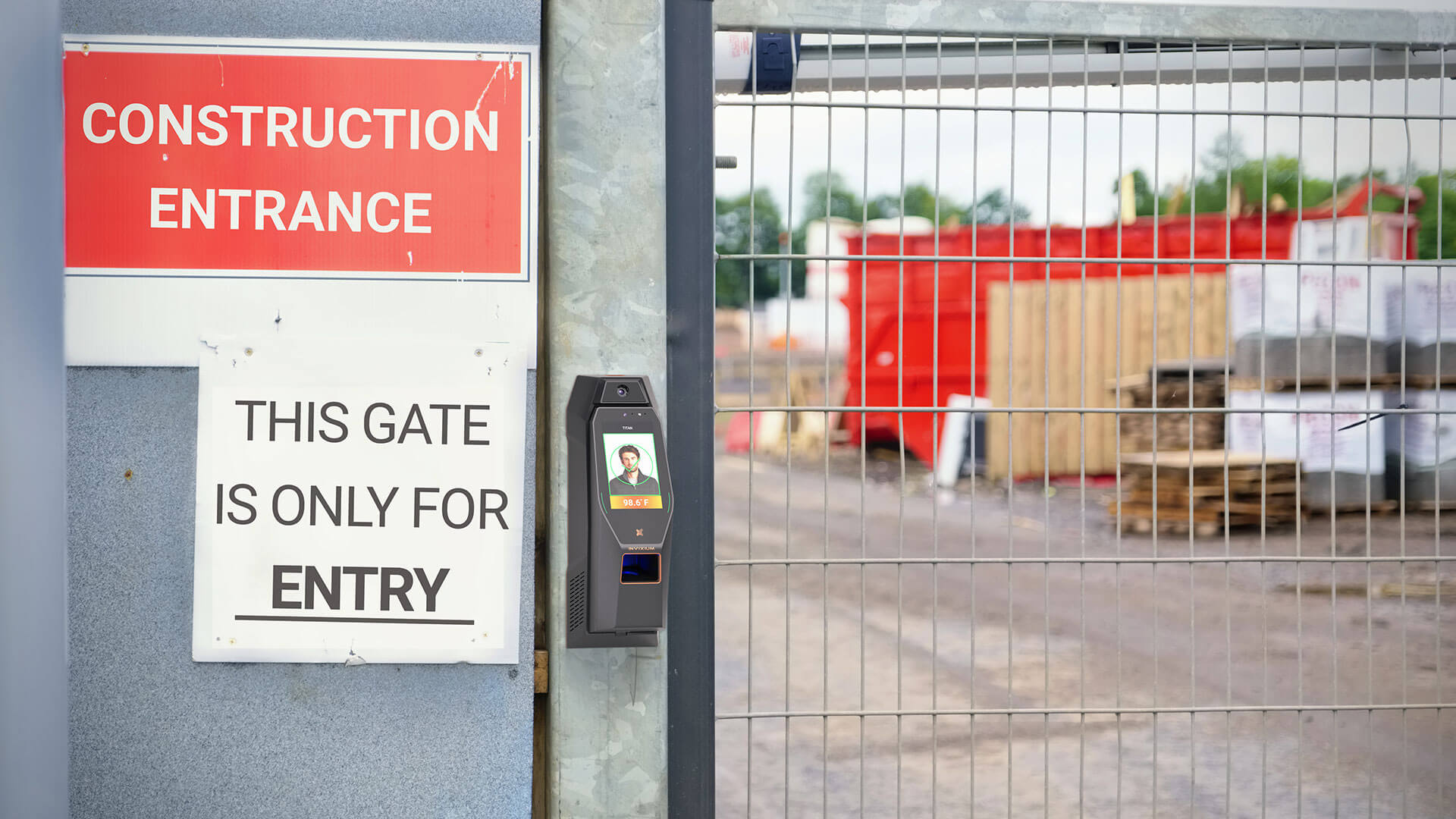 IXM TITAN + Enhancement Kit: The Ideal Future for Construction Sites
Invixium offers construction enterprises a powerful, timely option: IXM TITAN + Enhancement Kit, a complete health and security solution that simultaneously performs touchless face recognition and temperature screening. TITAN provides an impeccable answer to each of the construction industry's unique needs:
High Throughput for Large Shifts and Changeovers

IXM TITAN boasts a face recognition throughput of 15 to 18 users per minute and a temperature screening speed of 12 to 15 users per minute. In summary, TITAN can screen the health of each user, grant access and digitally track employee time at the site via touchless biometrics in just a few seconds. These speeds are TITAN's advantage over traditional time cards and thermal gun temperature screening, and will not be slowed down by workers wearing safety gear like hats or glasses – TITAN can authenticate users with facial obstructions at the same speed.

High Accuracy in Challenging Environments

IXM TITAN's high accuracy and liveness detection eliminate time theft and stand up to the demands of a high-volume construction site. With an all-aluminum body and IP67 and IK10 ratings, TITAN is built to endure challenging environments across all seasons. Its Corning® Gorilla® Glass LCD is tough enough to withstand the rigor of daily use, and the built-in gyroscopic sensor provides vandal-proofing by triggering an alarm when an attempt to remove the device is made.

Automated Temperature Checks and Digital Audit Trail

IXM TITAN + Enhancement Kit is the premier solution for simultaneous, touchless face recognition and temperature screening. The Enhancement Kit screens temperatures at the medial canthus (inner tear duct) to ensure minimal influence from ambient temperature. This fully-automated workflow is prompted when TITAN's face recognition camera identifies a face, which triggers the E-Kit's thermographic camera to take a temperature reading within an accuracy of +/- 0.5 ⁰C (0.9 ⁰F). The solution can also communicate temperature data to the new, licensed feature of IXM WEB, IXM Health, where administrators can monitor and audit each site's health over time.

Administrative Efficiency

Invixium's enterprise-grade software solution, IXM WEB, seamlessly integrates with leading Access Control systems, HRMS and other construction software solutions. Construction administrators can view time tracking and health data, live camera feeds, shift management and more through integration or via IXM WEB itself if the business currently isn't using a workforce management system. Invixium offers further customization to IXM WEB to meet each customer's specific needs.
Invixium Solutions for Strong, Safe and Simple Security
IXM TITAN + Enhancement Kit meets the construction industry's most rigorous challenges. Invixium's intelligent dual camera solution is a proven option that construction enterprises worldwide trust to support their businesses as they optimize their security systems.
Our expert sales team is here to help you select the best solution for your business based on your needs for biometric access control, workforce management and/or visitor/employee screening. As always, Invixium strives to be your preferred biometric manufacturer by offering the finest technology on the market with knowledgeable guidance.
Contact us:
sales@invixium.com
For more information, visit:
invixium.com