The concept of what a healthy building looks like has shifted with the new normal brought on by COVID-19. Healthy buildings have moved beyond heating, ventilation, air conditioning, lighting, building automation and fire safety. Now, they emphasize how the efficiency of a building system can influence – and protect – personal health. This new approach to building systems and automation is steering businesses to select new and innovative solutions to combat the pandemic and future contagion threats.
The healthy building approach aims to ensure employee, staff, customer and client safety from infection. In their pandemic reopening plans, businesses are upgrading mechanical systems with modern solutions such as touchless door openers and air filtration systems, as well as deploying intelligent and adaptive security technologies like touchless biometric face recognition. The most advanced biometric solutions help comply with new government health mandates by detecting elevated body temperatures and monitoring if individuals are wearing masks at entry points to comply with pandemic-related company policies.
With the multiple safety and security challenges that organizations face when resuming business operations, the coronavirus pandemic has forever changed the landscape of doing business. Developing strategies to meet the range of mandates from various government agencies and organizations is the driving factor leading businesses to adopt new solutions to ensure healthy workplaces.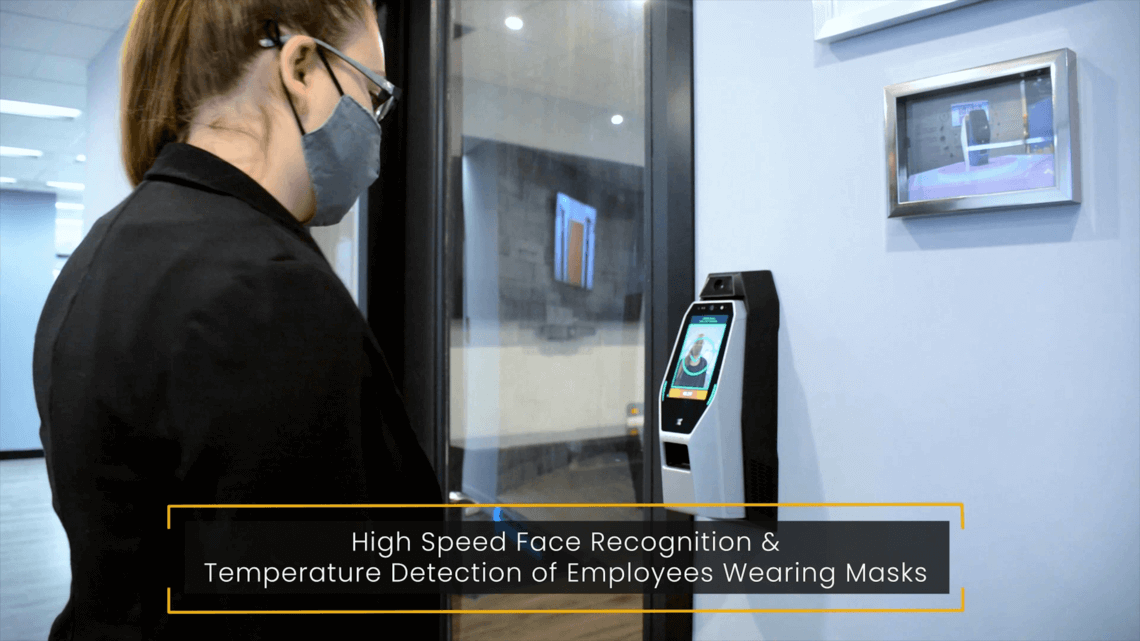 Enter Healthy Buildings with Healthy Access
Entry points are the first line of defense most buildings have against unwanted, unauthorized or unhealthy entry. Health-based access checkpoints have already become common in businesses reopening during the pandemic: employees and visitors often wait in line to have their temperature checked by a staff member and answer a handful of symptom-related questions before gaining access to the building. However, this process is equal parts slow and unwelcoming: social distancing while standing in line is difficult, and temperature guns or larger temperature screening equipment can be intimidating for users.
With these concerns in mind, automated temperature screening emerges as an attractive solution. Deploying touchless thermographic cameras that screen temperatures when they detect a person in view allows for greater distance between visitors and the person monitoring the screening. With some solutions, the person monitoring doesn't need to be in the same room or isn't necessary at all. Automated temperature screening is also incredibly fast, with solutions like Invixium's TITAN Enhancement Kit screening 12 to 15 persons per minute.
Another hurdle to reopening that businesses worldwide face is a plethora of new mandates requiring individuals to wear masks in public. Many thermographic cameras that screen for elevated skin temperature need users to remove their masks to achieve an accurate temperature evaluation. However, the Enhancement Kit screens staff and visitor temperatures without asking for masks to be removed because its onboard thermographic camera targets the inner canthus, or tear duct, which is the area of the body known to have the strongest correlation with core body temperature. With the high risk of diseases spreading through respiratory droplets exhaled with every breath, users must be able to keep their masks on during temperature screening for buildings to safeguard personnel health. Further, access can be denied to visitors who present with a high temperature, and enterprises can customize workflows to keep doors locked or direct users' next steps, such as visiting a security checkpoint for further clinical temperature measurement.
The Enhancement Kit adds powerful health-based features to IXM TITAN, but Invixium's flagship biometric device is an asset to healthy buildings on its own as well! With the latest upgrade to IXM WEB, TITAN now offers mask detection to enforce rules that require masks at critical entry and access points in buildings. Combine the Enhancement Kit's powerful temperature screening capabilities with TITAN's new features to ensure that staff and visitors alike are wearing masks before they step foot in your healthy building.
Protect Staff Health and Give Employees Confidence with Healthy Workforce Management
With the CDC defining close contact as anything longer than 15 minutes if contact among people is repeated (like with coworkers), building management must be conscientious when planning to safeguard employees' health. Apart from mask mandates, social distancing, adopting work-from-home or A/B schedules, many businesses are choosing to employ temperature screening, touchless clocking in and out and new analytics tools to achieve their goals.
Invixium's temperature screening solution is not just for visitor screening. Deploy IXM TITAN with Enhancement Kit wherever staff clock in to add temperature screening to your usual clock-in protocol and alert you if an employee scans with an elevated body temperature. If an employee screens with a high temperature, workflows for temperature screening can be customized to accommodate every business's unique procedures for such events. And, employees can clock in and out with frictionless face recognition while wearing a mask – ensuring that shared equipment does not need to be touched for employees to start and end their shifts and breaks, thus reducing the potential for viral particles to spread from person to person. By allowing masks to stay on while clocking in and out, staff can be assured that the lowest possible amount of respiratory droplets spreads, adding to the confidence they receive from hands-free workflows!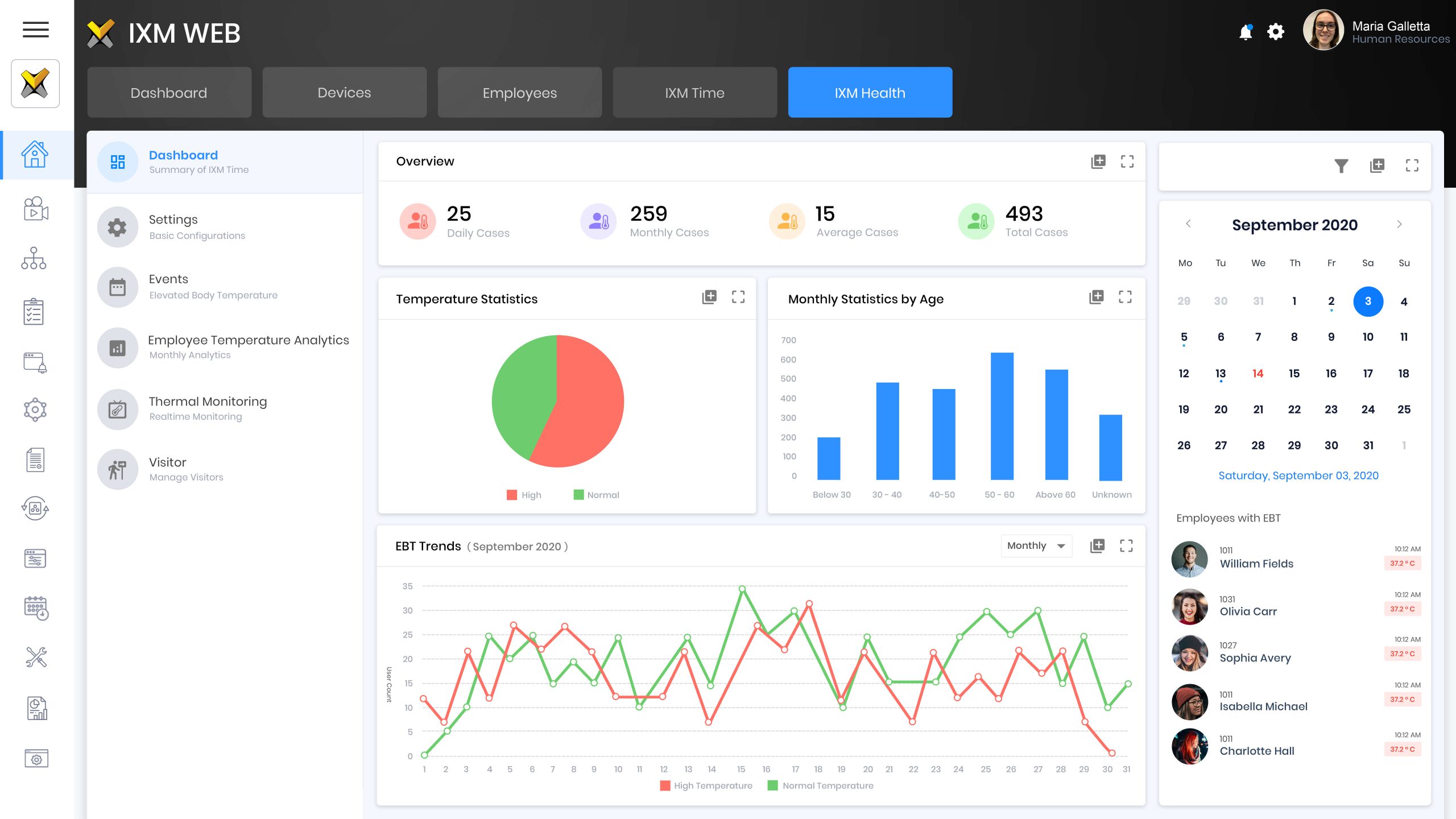 If a business is interested in monitoring staff or visitor health over time, Invixium offers IXM Health: a powerful licensed feature within IXM WEB that completes an already-robust COVID-19 solution. IXM Health is a reporting tool that generates intuitive reports and user-friendly visualizations of building health over time using data captured from IXM TITAN with Enhancement Kit – regardless of if that data is for employee or visitor screening.
Healthy Buildings Start with Health-Focused Installations
Invixium's portfolio of touchless biometric solutions for access control, workforce management and visitor screening strives to provide businesses with a customizable healthy building solution that answers today and tomorrow's unique challenges.
Unlike other thermographic solutions, IXM TITAN with Enhancement Kit's core function is that of a biometric access reader. Thus, it is installed on a wall with built-in tamper protection – unlike other thermal cameras that require mounting on a tripod. Further, the Enhancement Kit does not require a black body, which would add additional expenses to the overall cost of the installation.
Our expert sales team is here to help you select the best solution for your business based on your needs for touchless biometrics as you plan for healthy access control and workforce management. As always, Invixium strives to be your preferred biometric manufacturer by offering the finest technology on the market with knowledgeable guidance.
Contact us:
sales@invixium.com
For more information, visit:
invixium.com