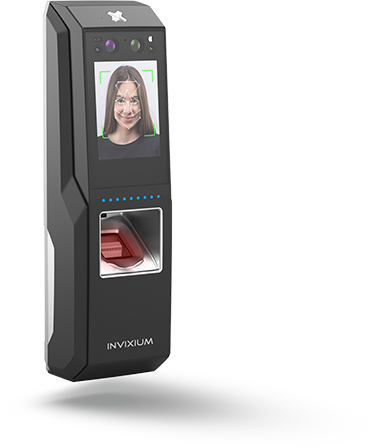 Touchless. Superior. Affordable.
Inspired by TITAN and designed for enterprises, TFACE is your do-it-all biometric solution.
TFACE is a highly versatile dual-biometric device that combines security and convenience for a variety of access control and workforce management applications. Built with a quad-core 2.2GHz processor and secure Android OS, TFACE is designed for today's world with modern features such as high-speed touchless face recognition and mask detection with desirable specifications like PoE+, BLE, Wi-Fi, a 2.4" IPS capacitive display, tamper protection, intercom, and so much more.
The performance of TFACE is the result of two SONY 8MP cameras (RGB and infrared) and a 500dpi optical fingerprint sensor which jointly deliver reliable and accurate authentication in less than 1 second. Achieve the highest levels of safety and security by enabling up to 4-factors of authentication including face, fingerprint, PIN, mobile credentials, and low or high frequency RFID.
The Do-Anything Face Recognition Solution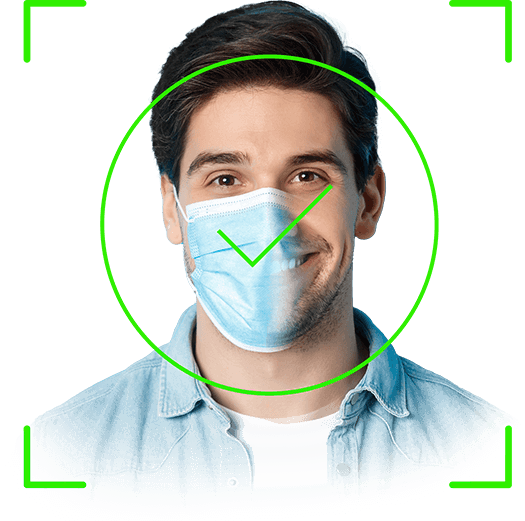 High Speed Face Recognition with or without Masks
Touchless biometrics such as face recognition keep people moving through lobbies quickly and limit the number of surfaces touched to gain access or track time. These features improve convenience, health-safety, and more.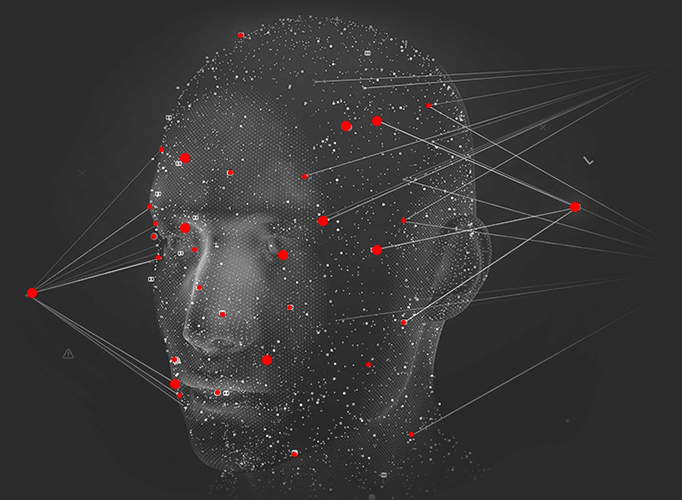 Liveness Detection Further Secures Your Business
Liveness detection is an additional, automated level of security – TFACE can detect whether the person in front of its camera is really a person or, in the event of spoofing attempts, a mask or photo of an enrolled individual.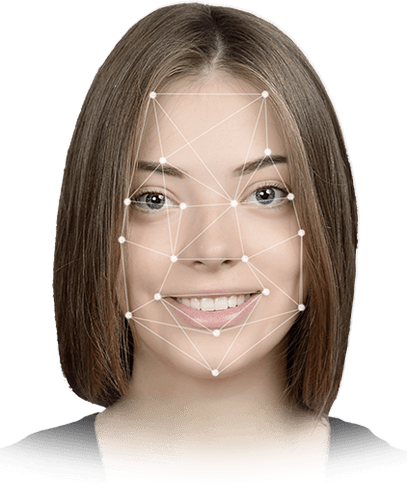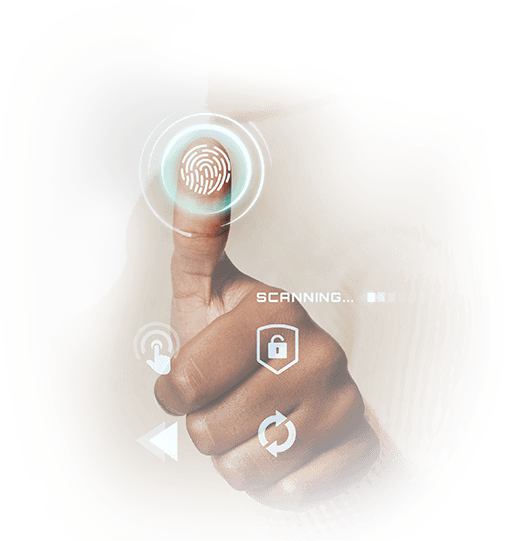 Dual Biometrics Offer More Options
TFACE is not just a face recognition device. The solution is built with a 500dpi optical fingerprint sensor that can be used on its own or combined with face recognition for two-biometric authentication of your staff, thus improving security.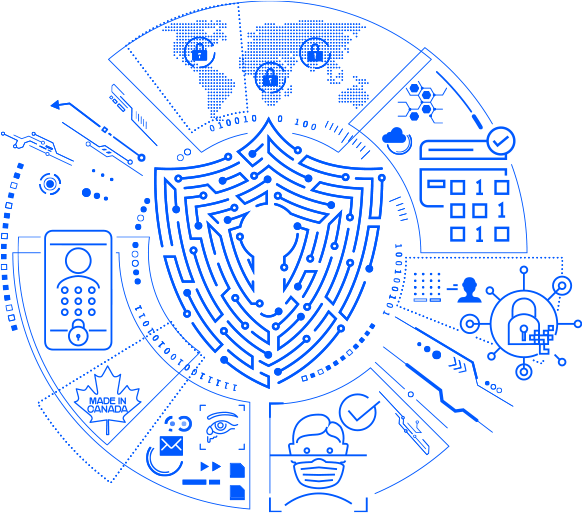 Even More Authentication Options
On top of TFACE's two biometric choices, the solution accepts mobile and traditional credentials – digital card, dynamic QR code, RFID cards, and PINs – to enable up to four factors of authentication, thus protecting your most secure areas.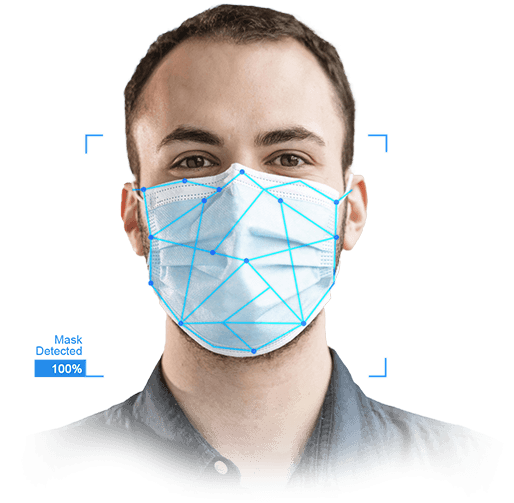 Mask Detection When It's Needed
As health-safety guidelines evolve, masks are sometimes demanded at workplaces. TFACE is equipped with highly relevant mask detection features to determine if anyone entering your building is wearing a mask and deny access if they aren't.

Mobile Credentials Brings Access Control into the Future
TFACE accepts the modern digital card offered by IXM Mobile, Invixium's groundbreaking mobile platform for access control. Never lose a plastic card again – digital cards are stored on each person's smartphone app.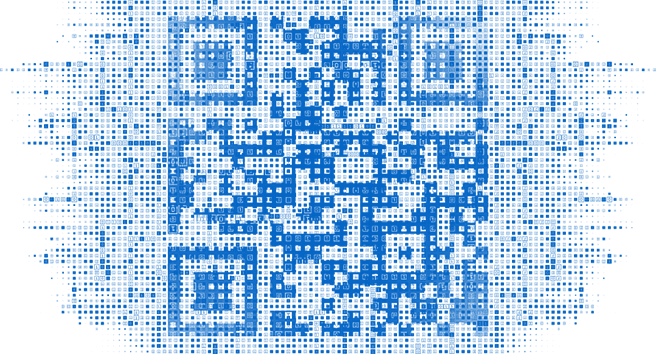 On-Board QR Code Reader for a Variety of Applications
If QR codes are a part of your access control system – as credentials, health passes, and more – TFACE is a reliable solution to grant access, no matter who distributed the QR codes.

Dynamic QR Code for Higher Security
Dynamic QR codes that refresh frequently to limit credential sharing or theft are a perfect solution compared to static QR codes – ideal for temporary workers such as contractors. TFACE's QR code reader can grant access quickly, so your visitors can go about their day.

Voice Commands Keep Access Hands Free
TFACE responds to voice commands so access control and time tracking is truly frictionless. This feature is not voice recognition; instead, individuals can use their voice to respond to questions displayed on TFACE's LCD and more.

PoE+ Makes Installation Simple
One cable (CAT5/6) for power and communication makes installation fast and easy, and also lowers installation costs and maintenance. TFACE is truly simple from installation to use and support.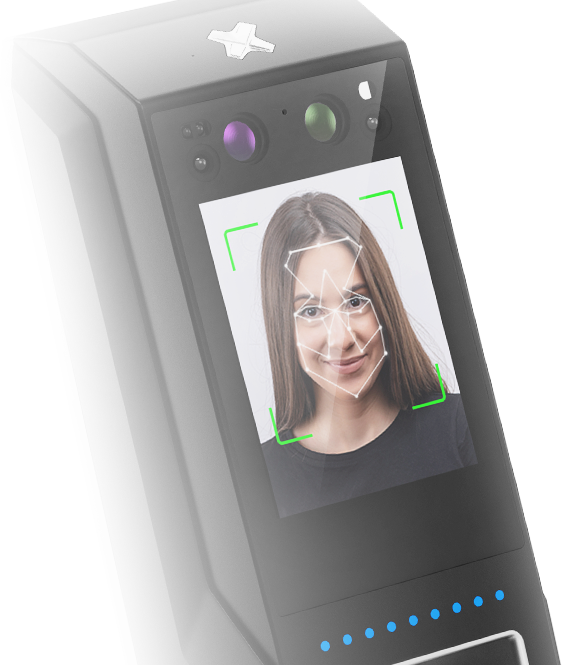 2.4" IPS Capacitive Display Makes Operation Joyful
The beautiful LCD screen built into TFACE means that employees will have a simple, engaging experience tracking time or gaining access with this solution. With beautiful colors and an Android OS, this device is incredibly easy to use.
The Right Device for Biometric Access Control and Workforce Management

Secure Critical Areas with the High Functionality of TFACE
With two biometrics and multiple digital and traditional credential options, TFACE is an excellent choice for indoor, high-security areas with low to moderate traffic – such as enterprises and data centers. Further protected by liveness detection, spoof-proofing, and tamper protection, TFACE is designed to protect critical areas, people, and assets.

Simplify High Level Workforce Management with Biometric Time Tracking
Time tracking is made simple with high-speed biometrics and TFACE's LCD screen. This solution adds impressive speed, accuracy, and convenience to tracking time that your staff will thank you for and, with biometrics, you will see in profits: biometrics reduce accidental or intentional time theft, erroneous punches, and other time tracking risks.
Even More Great Features
User Capacity for a Variety of Workforces
TFACE boasts a competitive biometric record capacity – 100K users for 1:1 face recognition or 25K users for 1:N and 100K users for 1:1 fingerprint recognition and 50K for 1:N.
High-End Processing Power on a Budget
TFACE does not sacrifice processing power to be affordable. The solution is built with a quad-core 2.2GHz processor to keep authentication fast.
Customization Options
TFACE is backed by a team of experts at Invixium with over 200 years of collective experience in biometric security, which means that this solution can be customized to solve your unique security needs.
Communication Options Add Flexibility
TFACE can communicate with Ethernet, Wiegand or OSDP2 to adhere to your business's capabilities and IT security policies.
Encryption Keeps Data Secure
All communication with TFACE is encrypted with industry-standard protocols. And, all biometric templates created by the Invixium algorithm are encrypted to prevent template theft or copying.
On-Board Audio Intercom Enables Door Communication
TFACE's audio intercom allows your security guard or administrator to communicate with people at the door for a smoother, more secure experience.
Panel Feedback Customizes the Experience
Your access control panel controls TFACE's sounds and LEDs, all of which can be customized for a truly unique experience.
IP65 and IK08 Certified
While TFACE is not Invixium's preferred solution for rugged installations, this device can still withstand the demands of day-to-day use with moderate traffic and predictable lighting and weather.
Tamper Protection Keeps Your Device Secure
TFACE's anti-shock vandal protection (ASVP) sounds an alarm if the device is physically tampered with – a simple add-on to security that grants peace of mind.
Device Powers Door Strike Reduces Cables and Power
TFACE is designed with electricity efficiency in mind! Device powers door strike allows TFACE to power the door, which means the door does not need its own power supply.
Network Architecture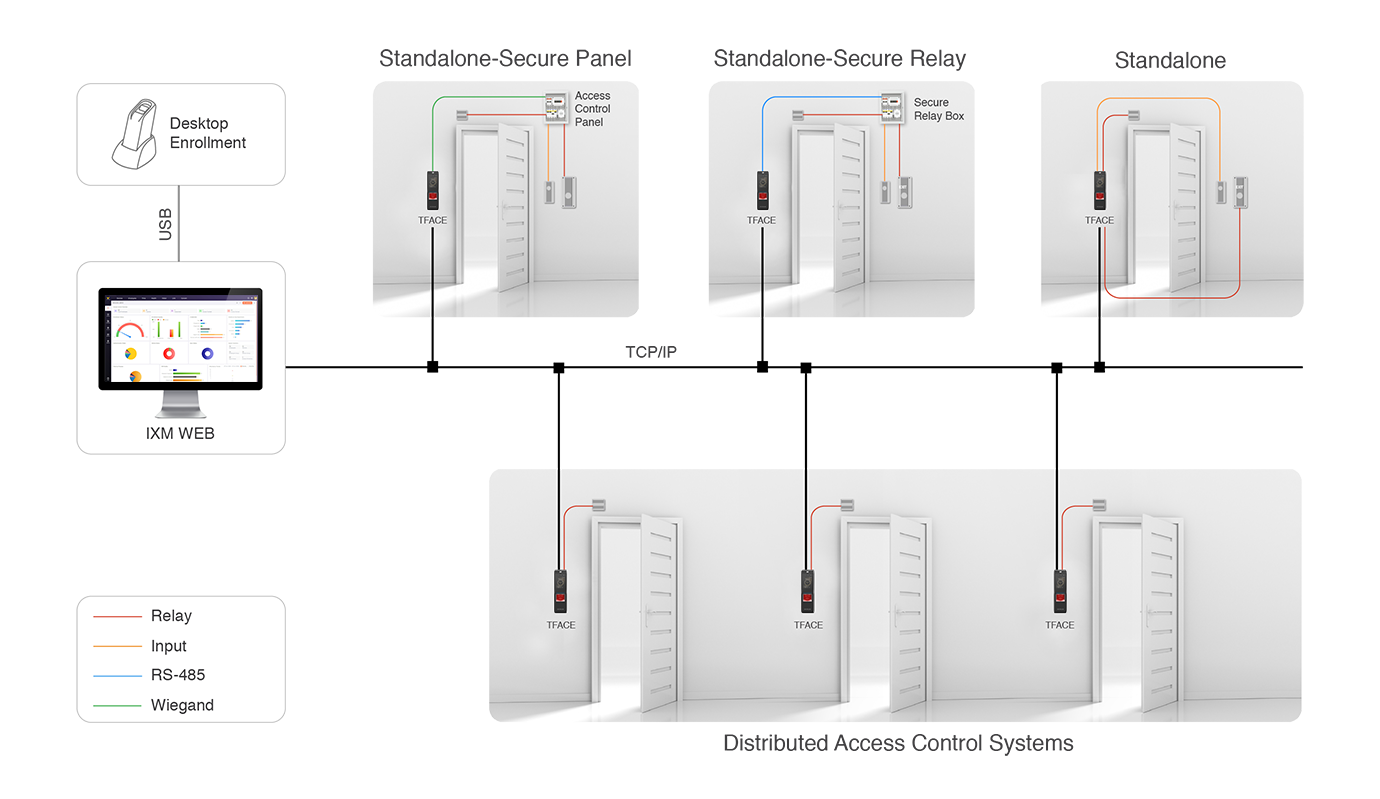 Software
TFACE pairs with Invixium's enterprise grade, all-in-one solution for device management, IXM WEB. User-friendly workflows and data-driven reports provide a comprehensive summary of your biometric system at the click of a button. IXM WEB is web-based, intuitive, and customizable to a variety of business needs with multiple integrations available.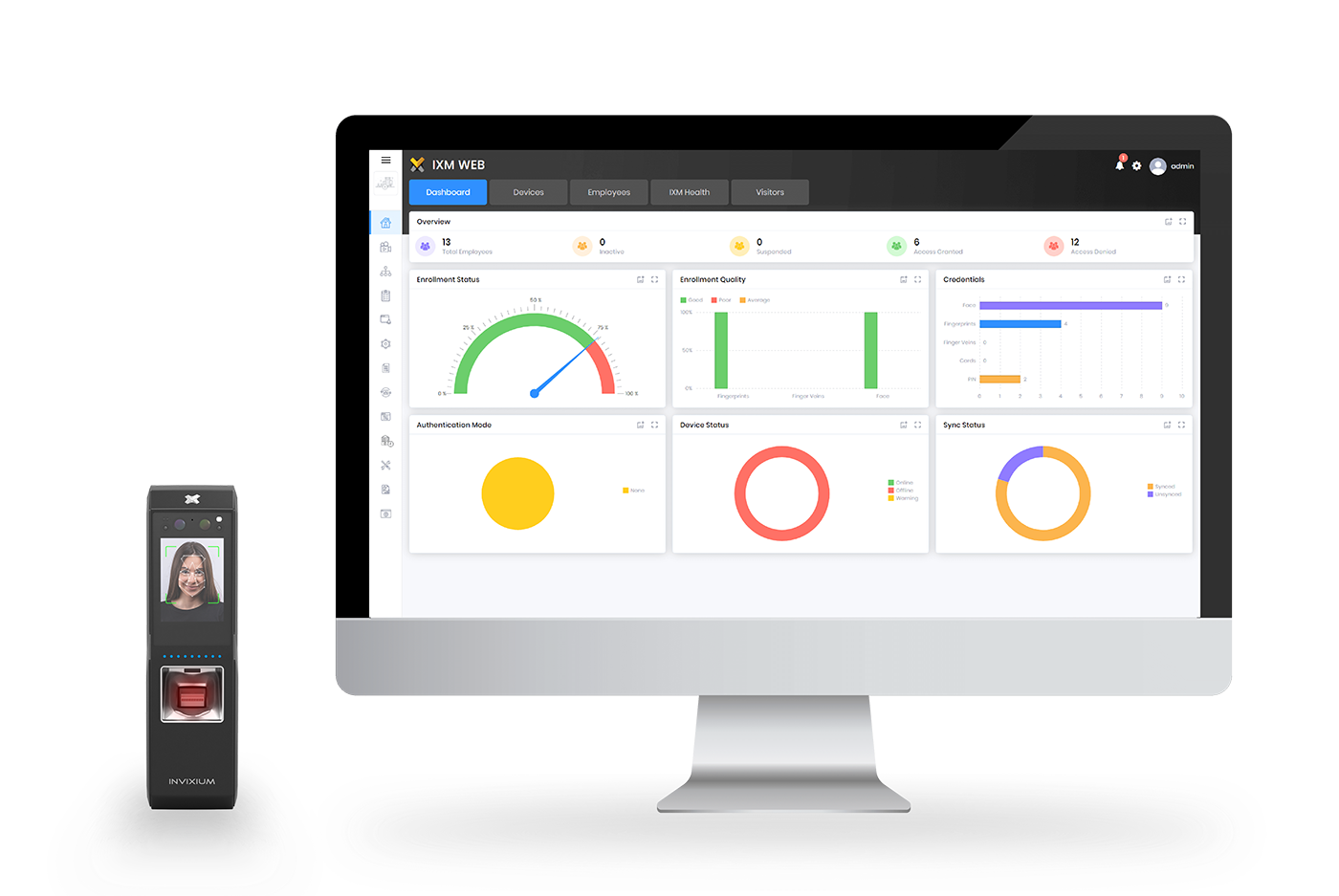 Tech Specs
| TFACE Features | Description |
| --- | --- |
| | |
| --- | --- |
| Processor | Quad Core 2.2 GHz |
| CPU | 64-bit, Qualcomm® Kryo™ 460 CPU |
| Graphics Engine | Qualcomm® Adreno™ GPU 612 |
| Image Signal Processor | Dual 14-bit Qualcomm Spectra™ 250L |
| DSP | Qualcomm® Hexagon™ DSP 685 |
| RAM | 4 GB LPDDR4x |
| Flash Memory | 16 GB |
| Operating System | Android |
| Serial Communication | RS – 232, USB, RS – 485 (OSDP v2) |
| Ethernet | 1000BASE-T |
| Wi-Fi | 802.11 a/b/g/n/ac (2.4 GHz, 5 GHz) |
| Bluetooth | 5.0 LE |
| USB | USB 2.0 (OTG), USB 2.0 |
| Cameras | SONY 8 MP RGB, 8 MP IR |
| | |
| --- | --- |
| Flash | High intensity LED |
| Wiegand | Customizable up-to 512 bits |
| # of SPOs / SPIs | 2 |
| Panel Feedback | Available (2 Physical Lines) |
| Door Access Controller | 1A (1-Output, 2-Input, 1-Relay) |
| Door Strike Supply | 12V @ 500mA |
| Anti-Shock Vandal Protection | Standard |
| LCD & Interface | 2.4" IPS Cap Touch Screen |
| Proximity sensor | Auto-on TOF sensor |
| Audio | Speaker |
| Microphone | Digital Mic |
| Intercom | VoIP |
| LCD Protection | Corning® Gorilla® Glass (Antimicrobial) |
| 1:N Users (Face Recognition) | 25K users (25K records) |
| 1:1 Users (Face Recognition) | 100K users (100K records) |
| 1:N Users (Fingerprint) | 50K users (100K records) |
| 1:1 Users (Fingerprint) | 100K users (200K records) |
| Matching Speed | < 1 second |
| Mobile Credentials | Digital Card, Static and Dynamic QR Code |
| Image Log Capacity | 5K Images |
| # of Transaction Logs | 500,000 |
| PoE+ | IEEE 802.3at |
| Power Supply | 12V DC @ 2A, 24V DC @ 1A |
| Operating Temperature | -20 ˚C to +60 ˚C (-4 ˚F to +140 ˚F) |
| Environmental Rating | IP65, IK08 |
| Relative Humidity | 0% ~ 95%, non condensing |
| Dimensions | 199 mm x 48 mm x 49 mm (L x W x D) |
| Regulatory Approvals and Certificates | FCC, CE, RoHS, UKCA, BIS |