Multimodal. Multifactor. Multipurpose.
The Most Advanced Face Recognition Access Control Device
IXM TITAN is Invixium's flagship solution for access control, workforce management, and visitor screening. Engineered for the challenges of today and tomorrow with cutting-edge technology, TITAN is a cut above its competitors with room to scale as the world evolves. To meet today's most modern challenges, this solution offers a wealth of features that promote high security, workplace wellness, and entrance security that gives employees and management the peace of mind they need to get back to work.
Highly relevant features offered by TITAN include multi-factor authentication using any combination of multiple biometrics (face recognition, finger vein, fingerprint), mobile credentials (digital card, dynamic QR code), and traditional credentials (card, PIN). When using touchless credentials, TITAN's speed is unmatched, helping you reduce crowding and improve convenience. TITAN's flawless user experience is rounded out by rugged construction, modern design, and enough power built-in to future-proof your Invixium security system for years to come.
A True Marvel Of Engineering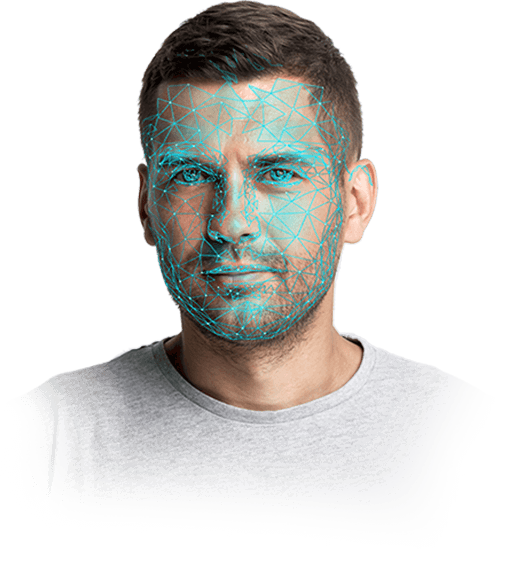 High Speed Touchless Face Recognition Provides Fast Authentication
Touchless face recognition is IXM TITAN's defining feature with a throughput of 15-18 users per minute and a 1:N face recognition capacity of 100,000 individuals. TITAN's signature speed cuts down on the time shift changes or gaining access take, and its touchless functionality helps protect staff and visitors from germs spread by touching common surfaces.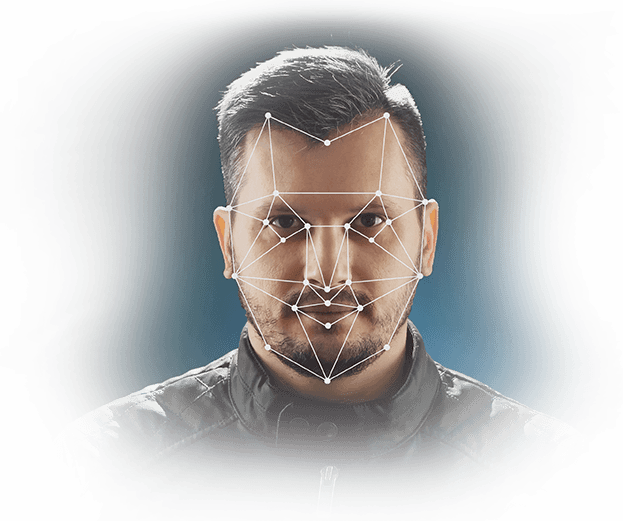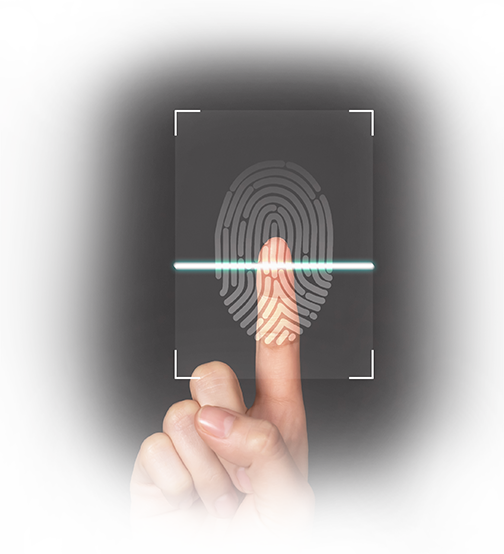 Multimodal Authentication Offers Heightened Security
Why secure your business with one biometric or credential when you can have two? IXM TITAN offers up to 2 biometrics: face recognition and an option of fingerprint or finger vein recognition. Multimodal authentication best suits applications in need of heightened security like financial institutions and data centers.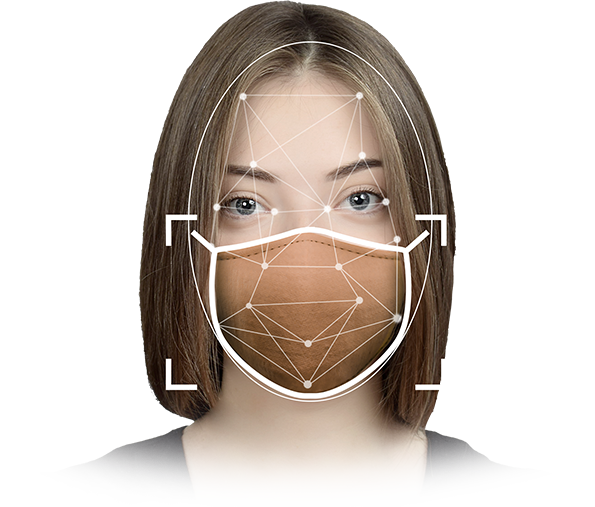 Mask Detection Allows You To Adhere To Health-Focused Guidelines
In a COVID-19 world, health conscious managers should do everything they can to eliminate the need for staff and visitors to take their masks off. So, IXM TITAN comes built with functionality to grant or deny access based on if a person is – or isn't – wearing their mask. This feature compounds with TITAN's touchless face recognition to offer face recognition while wearing a mask, allowing for hands-free, mask-on authentication.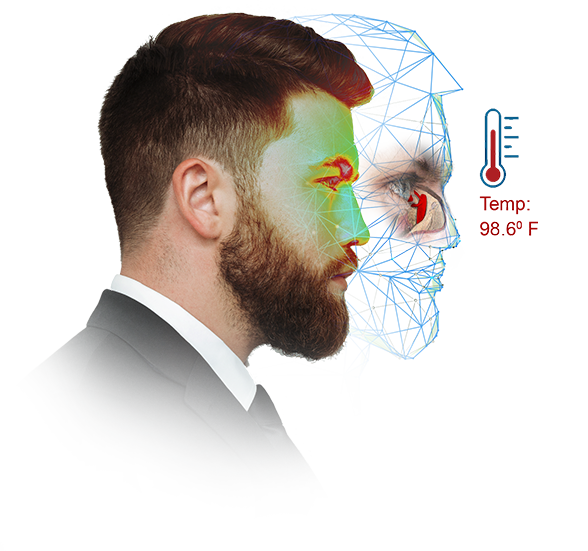 Temperature Screening Limits The Spread of Illness Inside Your Building
When paired with the Enhancement Kit, IXM TITAN can perform simultaneous face recognition and elevated body temperature detection at the tear duct – the most accurate location on the body to touchlessly screen temperature. The Enhancement Kit is an accessory purpose-built for the TITAN with an integrated Thermographic Camera to scan for elevated body temperature during face recognition with a +/- 0.5 ⁰C (0.9 ⁰F) accuracy.

Custom Attestation Questions Assist With Compliance
IXM TITAN also supports customizable attestation questions for health, safety, and compliance in two ways. First, TITAN can read the QR code generated by IXM Mobile after attestation questions are remotely completed by your staff and visitors. Second, IXM TITAN can display attestation questions on its LCD to be answered on-site. Ensure your staff is healthy with wellness questions, check to make sure workers are wearing protective gear, and more!

Digital Card Saves Money and Reduces Plastic Waste
To reduce plastic waste and year-over-year (YOY) costs of maintaining a physical-card based system, IXM TITAN is built to read digital cards offered by IXM Mobile, Invixium's platform of remote features that enhance personnel health, safety, and convenience.

QR Code Offers a Simple Mobile Access Credential
A simpler alternative to digital cards, IXM TITAN reads QR codes as a credential – either generated by the IXM Mobile app for your staff and visitors, or those generated by a third party. Dynamic QR codes, unique to Invixium, will continue to change periodically to protect against credential-sharing, hacking, or theft.

Voice Commands For A
Truly Touchless Experience
In our modern, hands-free world, touch screens to gain access, track time, and more are antiquated. To help adhere to modern demands and reduce staff and visitor anxiety over the spread of germs, IXM TITAN supports voice commands to make gaining access or tracking time a breeze.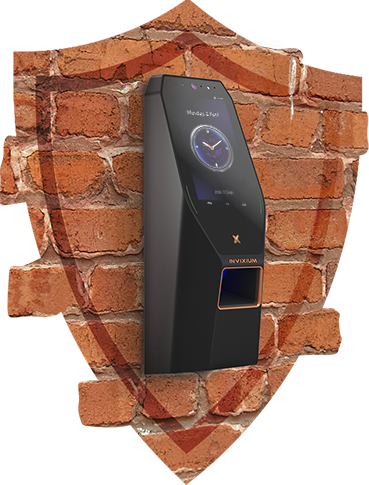 Rugged Construction Endures The Harshest Work Environments
IXM TITAN is IP67 and IK10 rated for ingress and impact protection, making this solution ideal for challenging outdoor conditions. Paired with an all-aluminum body for design and effective heat-sink, as well as a 5" Corning® Gorilla® Glass LCD, TITAN offers peace of mind that the elements and rugged work environments will not harm your security system.
Purpose-Built For Anything

Secure Your Building With Advanced Access Control
Biometrics are the most reliable way to secure your business, and IXM TITAN is a highly advanced multimodal biometric solution that can secure your worksite with up to two biometrics, cards and PINs. With anti-spoofing and anti-tamper measures like liveness detection and anti-shock vandal protection, TITAN can help you rest assured that your most critical areas are secure.

Optimize Your Scheduling And Payroll With Intelligent Workforce Management
Manage your workforce with IXM TITAN, a time tracking solution that eliminates shift change bottlenecks, saves time and money and ensures attendance records are 100% accurate. Biometrics eliminate the risk of accidental or intentional time theft because they cannot be stolen or copied, reassuring managers that payroll is always correct.

Safeguard Staff And Visitor Health With Touchless Healthy Access
IXM TITAN is the premier Healthy Access solution by Invixium. Minimize the risk of illness spreading at the workplace with touchless face recognition while wearing a mask, mask detection and temperature screening from TITAN and the Enhancement Kit. High throughputs keep lines moving during critical times, allowing for social distancing and reducing risk of crowding in small areas.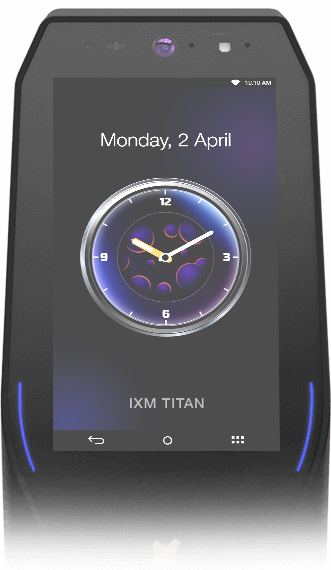 5.0" IPS LCD Enhances Accessibility And User Experience
Favored by the consumer electronics industry for its scratch resistance, Corning® Gorilla® Glass ensures equal parts elegance and ruggedness for IXM TITAN's 5" LCD. The colossal LCD with 1080p HD resolution gives TITAN an awe-inspiring display and is used for PIN access, function key inputs and enrollment from the device among other things. The in-plane switching (IPS) technology provides a wider viewing angle and stunning colors even in bright sunlight.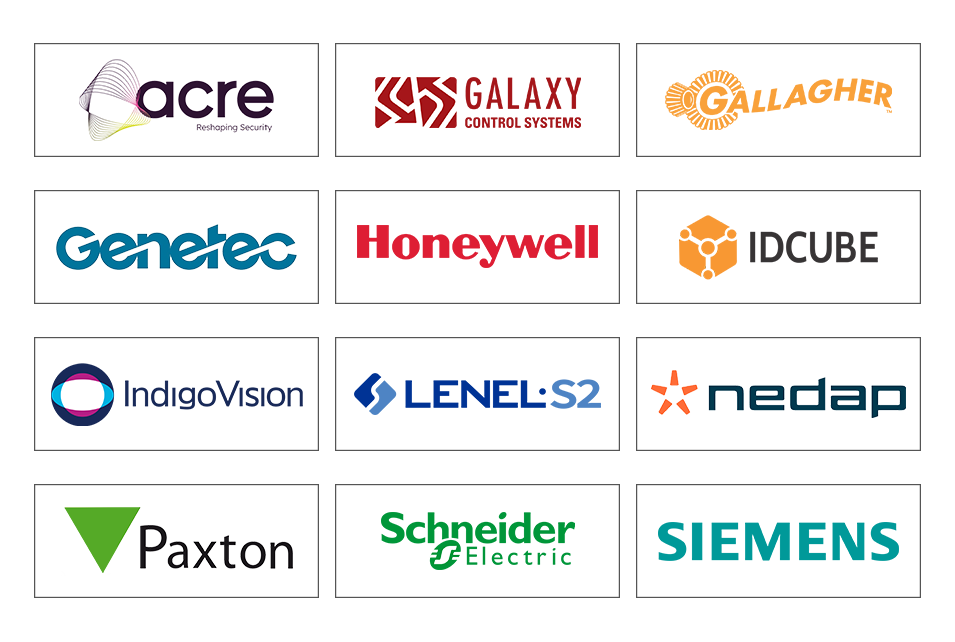 Integrations With Leading Access Control Software For Seamless Use
Via IXM Link, IXM TITAN is integrated with a full range of industry-leading access control software including OnGuard by LenelS2, Honeywell Pro-Watch and more.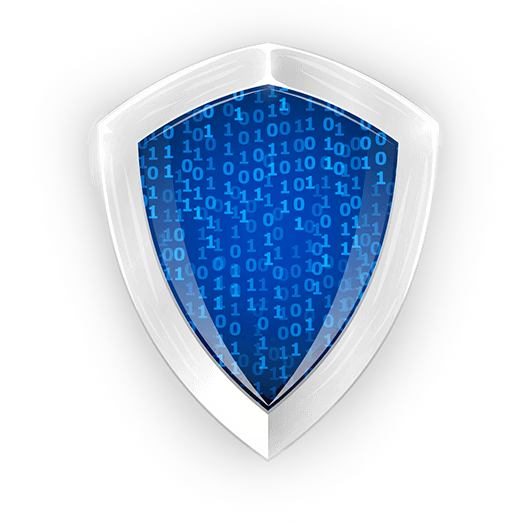 Biometric Template And Communication Channel Encryption Ensures User Privacy
All biometric templates used by IXM TITAN are encrypted to combat theft of credentials. When a person presents their biometric to TITAN, a RAW image is scanned by the built-in sensor and converted to an ANSI-378 template, which is encrypted using state of the art AES encryption before storage.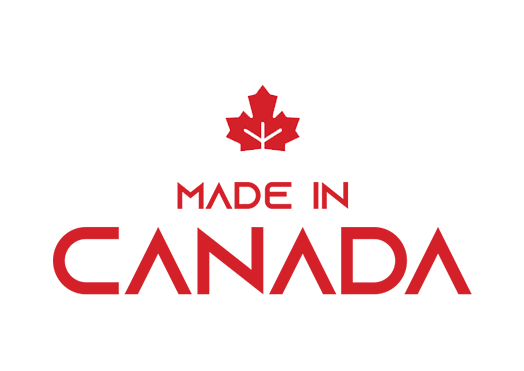 High Quality Products Made In Canada
All Invixium products are proudly made in Canada with the highest-quality materials to ensure that our devices offer the utmost in engineering and user experience.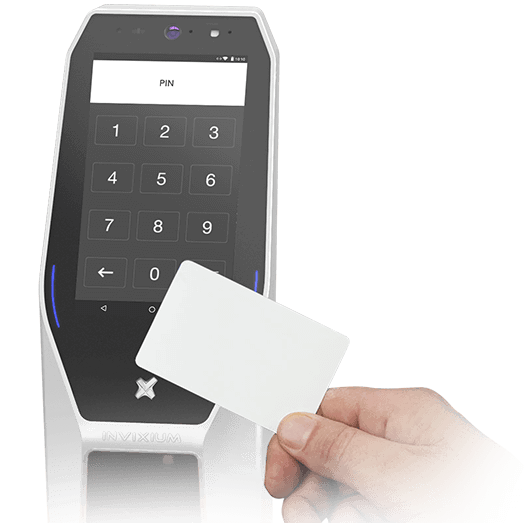 PIN And Card
Add Non-Biometric
Authentication Options
In addition to 2 biometric modalities - facial recognition and an option of fingerprint or finger vein recognition, IXM TITAN also supports use of PINs and multiple card formats including iCLASS, Prox, MiFare and DESFire cards.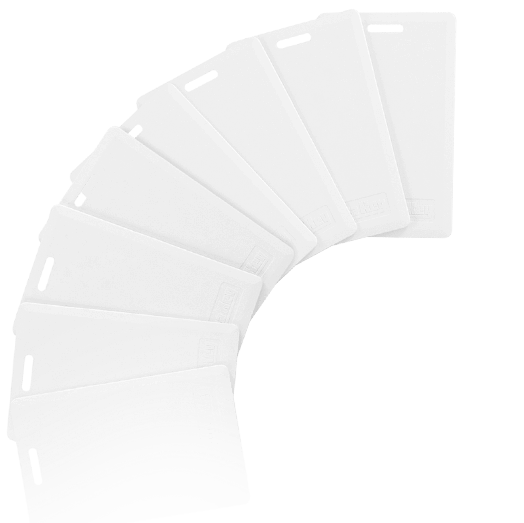 Up To 10 Cards Per User Are Supported
IXM TITAN can accurately verify an individuals identity in applications where more than one card is assigned to the same person through multi-card support for up to 10 cards per user.
Even More Great Features
Large User Capacity
For Workforces Of Any Size
IXM TITAN boasts a 1:N face recognition and fingerprint capacity of 100,000 individuals each, or a 1:1 capacity of 500,000 for face and 1 million for fingerprint.
One-Cable PoE+ Power And Communication For Easy Installation
One cable (CAT5/6) for power and communication makes installation fast and easy, and also lowers installation costs and maintenance.
Video Intercom + DTMF Create An Excellent User Experience
IXM TITAN's on-board microphone, speaker, and 21 MP camera provide an amazing audio and video intercom experience to the user. Additionally, the stereo high-fidelity speaker is also used for audio alerts when using TITAN as an output device.
Communication Options Offer Customizable Security
IXM TITAN communicates via Ethernet, Wiegand or OSDP2 to offer various levels of security and accessibility to any business.
Invixium Products Supported By Customizations For Any Business
To best suit all of our customers' unique business needs, IXM TITAN is supported by a team of engineers that offer a wide variety of customizations for biometric applications, software and hardware integrations, and more.
Add-On Wi-Fi And Cellular Networking Improves Connectivity Options
To enhance user and administrator experience, IXM TITAN offers advanced connectivity options through Wi-Fi and Cellular networks, allowing your devices to be fully on-line with the rest of your security system.
Add-On Battery Backup For Assurance That Your System Will Always Be Running
IXM TITAN offers an optional backup battery to ensure that your system never goes offline, even in challenging applications where a power cable is not always readily accessible.
Panel Feedback Offers An Exquisite, Customizable User Experience
Your access control panel controls various actions taken by IXM TITAN such as sounds and LEDs, all of which are customizable through TITAN's companion software, IXM WEB.
High Impact And Ingress Ratings Create An Extremely Weather-Resistant Security Solution
With IK10 and IP67 ratings, IXM TITAN is uniquely resistant to the effects of sunlight, rain, snow, dust, sand, wind and a plethora of other environmental factors that could bring other security solutions down.
Tamper Protection Grants Peace-Of-Mind Against Hackers Or Data Thieves
IXM TITAN is built with anti-shock vandal protection (ASVP) that sounds an alarm when an attempt is made to remove the device from its installed location as an added layer of security.
Device Powers Door Strike Reduces The Amount Of Wires And Electricity Used In Your Setup
IXM TITAN's efficient power management allows the device to divert extra power to the door strike – negating the need for the door TITAN protects to have its own power supply.
HDMI Connectivity Allows TITAN To Become A Video Surveillance Solution:
IXM TITAN be connected directly to a monitor via an HDMI cable and can be used for video surveillance. Applications include receptions, security cabins, security gates and more.
Network Architecture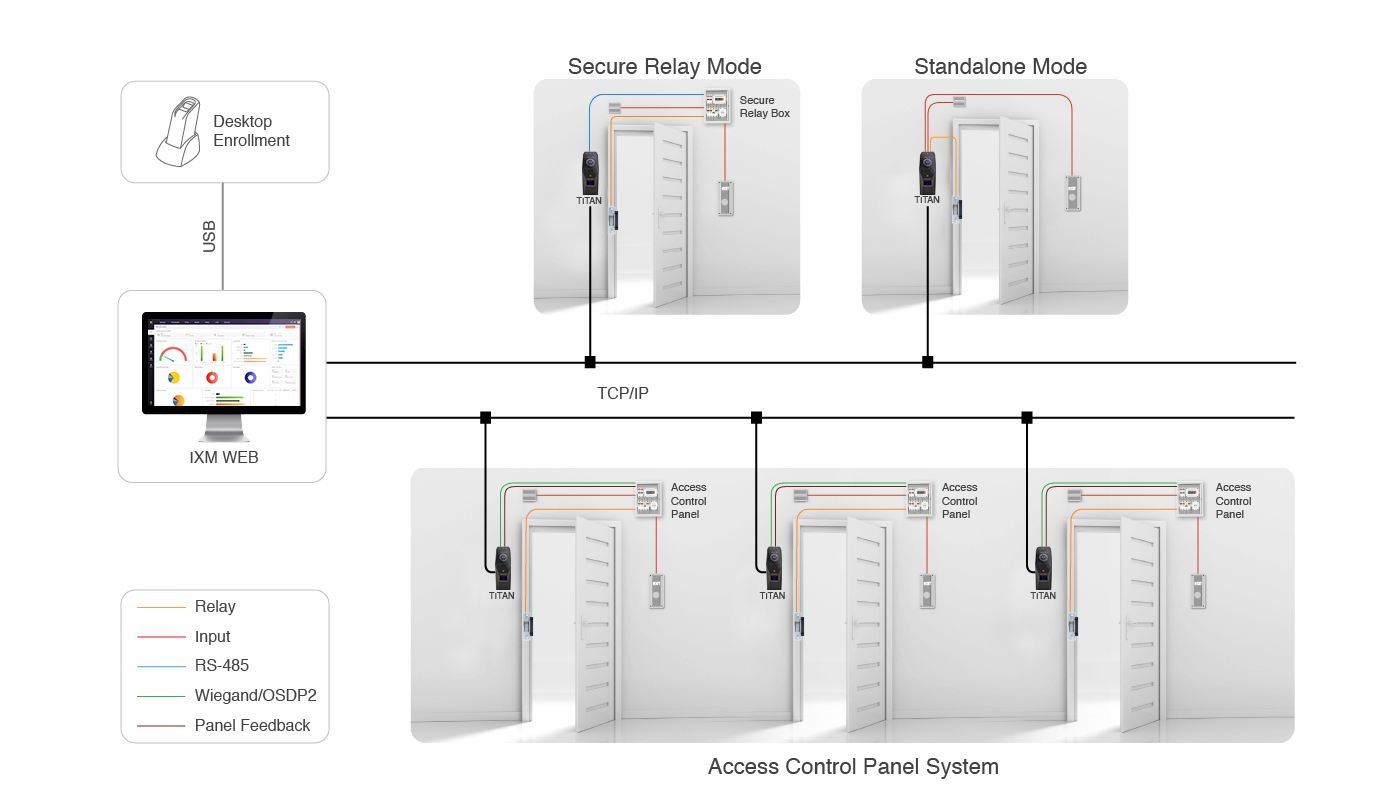 Software
IXM TITAN's companion software is IXM WEB: an enterprise-grade, all-in-one solution for easy device and user management. Featuring intuitive workflows and data-driven dashboards that provide a comprehensive summary of the health of your biometric system, IXM WEB is web-based, user-friendly and customizable to fit every business's needs.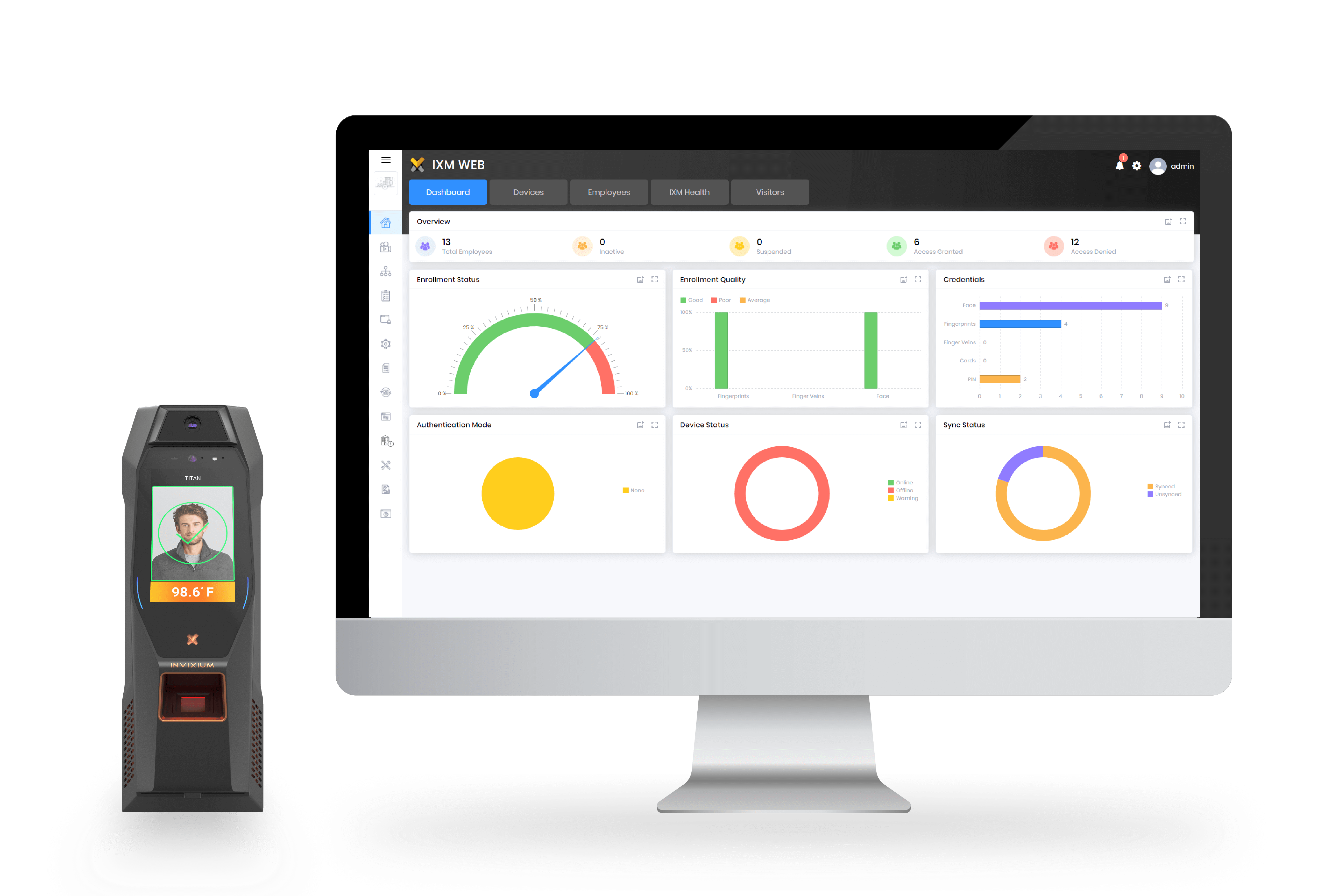 Tech Specs
| TITAN Features | Description |
| --- | --- |
| | |
| --- | --- |
| Processor | 2.2 GHz Quad core Qualcomm Snapdragon 820 |
| Random Access Memory | 4 GB PoP LPDDR4 @ 1886 MHz |
| Flash Memory | 64 GB Universal Flash Storage 2.0 gear 3 |
| Operating System | Android OS |
| Ethernet | Gigabit Ethernet (1000 BASE-T) |
| PoE+ | IEEE 802.3at |
| Camera | 21 MP Camera with Auto focus |
| Flash | High intensity LED Flash |
| Battery Backup | Li ion 5000 mAh (sold separately) |
Wi-Fi
802.11ac 2X2MU-MIMO 2.4GHz/5GHz
Bluetooth
4.2LE
USB
USB 2.0 On-The-Go (OTG)
# of SPOs & SPIs
3 & 3
Wiegand
Customizable up-to 512 bits
Door Strike Supply
12V @ 500mA, 24V @ 250mA
Anti-Shock Vandal Protection
Standard
LCD & Interface
5.0" IPS Capacitive Touch Screen
Display
1080p high contrast display
Auto On Proximity sensor
Standard (2 meters)
Audio
Stereo Hi-Fidelity Speaker
LCD Protection
Corning® Gorilla® Glass (Antimicrobial)
Fingerprint Sensors
– FBI & STQC Certified SecuGen Optical sensor
– Multispectral sensor from HID Lumidigm
Finger Vein Sensor
Hitachi Finger Vein Sensor
1:N Users (Records) – Fingerprint
Up to 50K users (100K biometric templates)
1:1 Users (Records) – Fingerprint
Up to 500K users (1 million biometric templates)
1:N Users (Records) – Finger Vein
Up to 2K users (4K biometric templates)
1:1 Users (Records) – Finger Vein
Up to 500K users (1 million biometric templates)
1:N Users (Records) – Face Recognition
Up to 100K users (100K templates)
1:1 Users (Records) – Face Recognition
Up to 500K users (500K templates)
RFID Card Options
iCLASS SE – MiFARE Classic/ DESFire/ DESFire EV1/ EV2/ EM Prox/ HID Prox/ iCLASS Standard/ SE/ SR/ Seos/ PIV II

Invixium Engineered – MiFARE Classic/ DESFire/ DESFire EV1/ EV2/ EM Prox
# Transaction Logs
1 million+
Communication options
TCP/IP, RS232, RS485 (OSDP v2 Compliant), USB-Aux, Wi-Fi
Power Supply
12V @ 3A, 24V @ 1.5A
Operating temperature
-25 ˚C to +75 ˚C (-13 ˚F to +167 ˚F)
Environmental Rating
IP67, IK10
TITAN FV Series is IP65 Rated
Relative Humidity
0% – 95% non-condensing
Support for Other Languages
Yes (requires IXM Translate license)
Dimensions
27 cm x 9 cm x 9 cm (L x W x D)
Colors
Brushed Aluminum, Black with Copper
Regulatory Approvals and Certificates
FCC Class B, CE, RoHS, BIS