The mining industry is a key economic driver globally. Millions of workers worldwide rely on mining for their livelihoods, even to the point of entire towns and cities being built around these operations. This industry's requirements are unique and growing, and new biometric technology can service the specific needs that have arisen as a result of COVID-19.
Mines are made up of multiple shafts; in some mines, shifts of 4,000 or more workers mine throughout dozens of shafts in one 24-hour period. Each shaft has its own access control checkpoint where workers enter for their shifts, typically involving a card-operated turnstile, then an elevator that carries them down the shaft for hours of work, but up to 20 people may be waiting to enter a shaft at a given moment.
Because workers are compensated based on how much raw material they mine in a shift, they cannot waste time waiting for a complex security workflow to authenticate their identity, screen their temperature, or log their in/out time because even minor delays can cost income. Simplicity is key, and that is why mining enterprises continue to rely on legacy access control systems that utilize cards or PINs and software that is dated, but reliable.
Access control systems in mines restrict entry to the different levels of each shaft as part of a layered security scheme that allows administrators to know who is in what shaft at what time for payroll and safety purposes. These systems work with the mine's workforce management software for time tracking, shift management, payroll calculation and medical document management, among other important uses of comprehensive security software. However, as the world they operate in changes, mines' needs are evolving past traditional access control toward the use of touchless biometrics.
The most immediate need mines face in the present is to screen all employees' temperatures before entering the shaft. And, by extension, to prohibit an individual showing any indication of illness from entering a shaft. Social distancing is not possible in the mine—once someone who is ill enters a shaft, it is then spoiled, leading to a shutdown of that section of the mine. Any extended disruption is catastrophic to mining operations; closing a single shaft can cause significant financial loss.
With so much at stake, mining enterprises are focused on products that minimize complexity of workflows and maintenance. If a problem should arise, mines demand strong technical support, often requiring integrators to provide a dedicated technical support staff member on-site to significantly reduce downtime.
Emerging and Persistent Mine Security Considerations
A new solution is in demand to address longstanding access control and workforce management challenges and new health needs. Five key considerations must be addressed for such a solution to be effective:
Fast and easy employee access to the mines

With most mining operations running two shifts of up to 4000 miners on each shift every day, the new solution needs to be fast, easy, and accurate to maintain productivity. Any delays in transitioning miners between shifts would cost businesses productivity and employees' pay. Miners have been known to forcefully enter their workplace when faced with access delays that could impact their paychecks, resulting in damaged property and equipment.

Durability to withstand harsh weather and high-impact mining environments

Closing a mine for inclement weather is not an option for most operations, so the technology used on-site needs to withstand the same conditions that miners do. From extreme heat to high wind, heavy rain, and dust storms, as well as both high and low lighting, solutions relying on biometrics need durability to authenticate in unideal conditions. Further, mines by nature involve explosions, and deployed security hardware should be rugged, ideally explosion-proof.

Automated and touchless health monitoring

In addition to needing fast access control, now, mining operations require fast temperature checks for entry. A single infected employee could cause an entire work shift to be sent home and quarantined, leading to a drastic reduction in productivity. Additionally, only an automated, touchless solution can further ensure that COVID-19 is not spread by any access or screening devices or personnel.

Simple workflows for all personnel

Workflows for entry and exit need to be as simple as possible with a minimal number of steps. Further, on-screen instructions, if any, need to be clear and concise to support workers with various degrees of tech-savviness, and workflows need to be easy to remember for repeated use.

Integration with existing access control systems

Mining sites may already be using an existing access control or workforce management system (i.e. HRMS, CCTV and video, access turnstiles, etc.). For that site to upgrade, for example, from card access to biometrics, the new biometric system would need to be integrated into the existing access control or workforce management platform.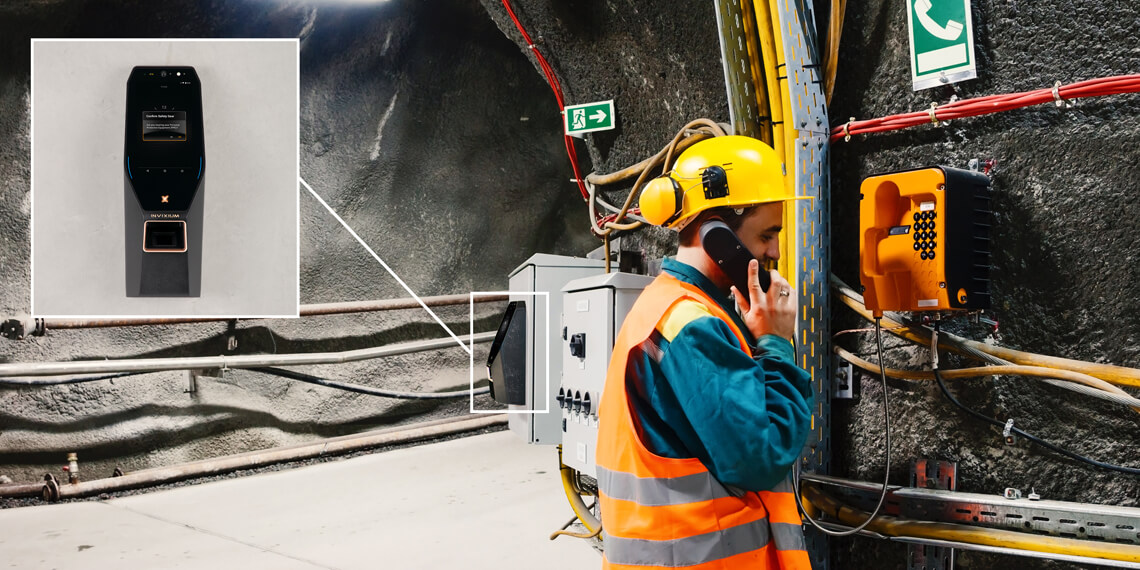 Answering the Needs of Today's Mines with IXM TITAN
With a deep understanding of the industry's needs, Invixium offers a powerful solution to mining enterprises: IXM TITAN with Enhancement Kit, an intelligent, dual-camera solution for simultaneous face recognition and elevated body temperature detection at the medial canthus. TITAN is not a mere access control device that controls turnstiles, but a complete security solution that can screen temperature and communicate timestamps and camera feeds to existing workforce management software. Each unique need of this industry listed in the previous section is answered by IXM TITAN's purpose-engineered features:
High Throughput Access

IXM TITAN is a high-throughput solution that suits the volume of employees and speed at which they need to enter the mines. IXM TITAN's touchless face recognition authenticates 15 to 18 users per minute, and the Enhancement Kit screens 12 to 15 temperatures in the same timeframe. These speeds remove the time-consuming processes of washing hands before authentication and traditional thermal gun temperature checks-both of which slow throughput and provide a potential source of infection by contact.

Rugged Construction

IXM TITAN's 21 MP camera is housed in a rugged all-aluminum body that provides impact resistance and an effective heat sink. The solution is IP67 and IK10 rated for outdoor use, ensuring that it can withstand the harshest of environments. Further, IXM TITAN's LCD is made with Corning® Gorilla® glass so the most extreme impact-even blasts from the mines-will not disrupt entry workflows. IXM TITAN also includes a gyroscopic tamper sensor that monitors for physical tampering and triggers an alarm or other notification when someone attempts to remove the device.

Intelligent Temperature Screening & Digital Reporting

IXM TITAN Enhancement Kit seamlessly adds temperature screening to TITAN's face recognition functionality. When TITAN's face recognition camera detects a face in view, the E-Kit's thermal camera is triggered to take a temperature reading at the same time as face authentication. With an accuracy of +/- 0.5 ⁰C (0.9 ⁰F), Invixium's solution is as accurate as thermal guns but adds the benefits of full automation, high throughput and employee temperature reporting through the IXM WEB feature, IXM Health.

Easy to Use

Enrollment for IXM TITAN's face recognition takes just a few seconds and is mostly automated—an administrator simply tells the device to capture a face for enrollment through a simple process in IXM WEB, Invixium's enterprise-grade software. During authentication, each user must only stand in view of TITAN's camera to trigger the automated face recognition and temperature screening workflows. Instructions during enrollment and authentication are read, printed on-screen, or both, and are written to be clear for users to follow.

Integration-Ready

IXM WEB is Invixium's enterprise-grade software solution that integrates with leading access control software. The solution can communicate time tracking and temperature data to whichever platform a mining business currently uses via Wiegand, OSDP or Web API.

For mines without a pre-existing access control system, Invixium's software solution is a powerful option. IXM WEB offers quick visitor and employee enrollment, a live feed of all TITAN cameras, intuitive dashboards for attendance, shift and health management, and VOIP functionality. Further customizations to IXM WEB can be requested based on each business's needs.
Invixium Solutions for Strong, Safe and Simple Security
IXM TITAN with Enhancement Kit meets the mining industry's unique needs. As a result, IXM TITAN has been successfully deployed in mining operations globally, safely supporting these enterprises and their workers as they get back to doing business.
Our expert sales team is here to help you select the best solution for your business based on your needs for biometric access control, workforce management and/or visitor/employee screening. As always, Invixium strives to be your preferred biometric manufacturer by offering the finest technology on the market with knowledgeable guidance.
Contact us:
sales@invixium.com
For more information, visit:
invixium.com