When biometric solutions first arrived on the scene several years ago, there was a great deal of excitement surrounding its potential for personal identification and authentication. But as is the case for any disruptive technology in its infancy, there were myriad technical challenges to be overcome compounded by a great deal of misunderstanding. Invixium's CEO & President, Shiraz Kapadia, was an early believer and advocate of the power of biometrics, and the impetus for the formation of Invixium in 2012. Since then, Invixium dedicated the last five years researching refinements in biometrics leading to the release of TITAN – the most advanced and versatile biometric solution engineered to date.
Yes, and we mean it.
As stated in this blog headline, we can list numerous reasons why TITAN is the most advanced biometrics solution available. But let's cut to the chase and focus on the top five reasons anyone looking for biometric access and/or workforce management solution should consider TITAN.
TITAN is a multimodal, multifactor biometrics solution.
One form of biometrics authentication is great – two is even better. That's why we designed TITAN to provide face authentication along with finger vein or fingerprint sensors. Additionally, up to two forms of electronic identification credentials such as a PIN or card can also be implemented, bringing the total number of authentication factors to four.
TITAN withstands the rigors and abuse of everyday use – indoors and out
Don't be fooled by its pristine exterior – TITAN is as tough as it gets. It's aluminum enclosure provides impact protection and acts as a heat sink. And TITAN is IP67 rated for ingress and water protection for use outdoors with a temperature operating range of -25°C to +75°C. Plus, the unit's versatile touchscreen features Corning Gorilla glass for exceptional protection and performance. All this makes TITAN ideal for the most demanding access and workforce management applications imaginable in rough environments such as mines, seaports, construction sites, etc.
Striking design details that are purpose-driven
TITAN is aesthetically pleasing. One of the design criteria for TITAN was to produce an authentication solution with a unique and elegant physical profile. But it's the combination of form and function that truly make it special, including TITAN's large, easy to view and use 5" IPS LCD 1080p HD touchscreen. It looks unlike any other access, biometric or credential reader, as most people say when they see TITAN for the first time.
The Proof is in the performance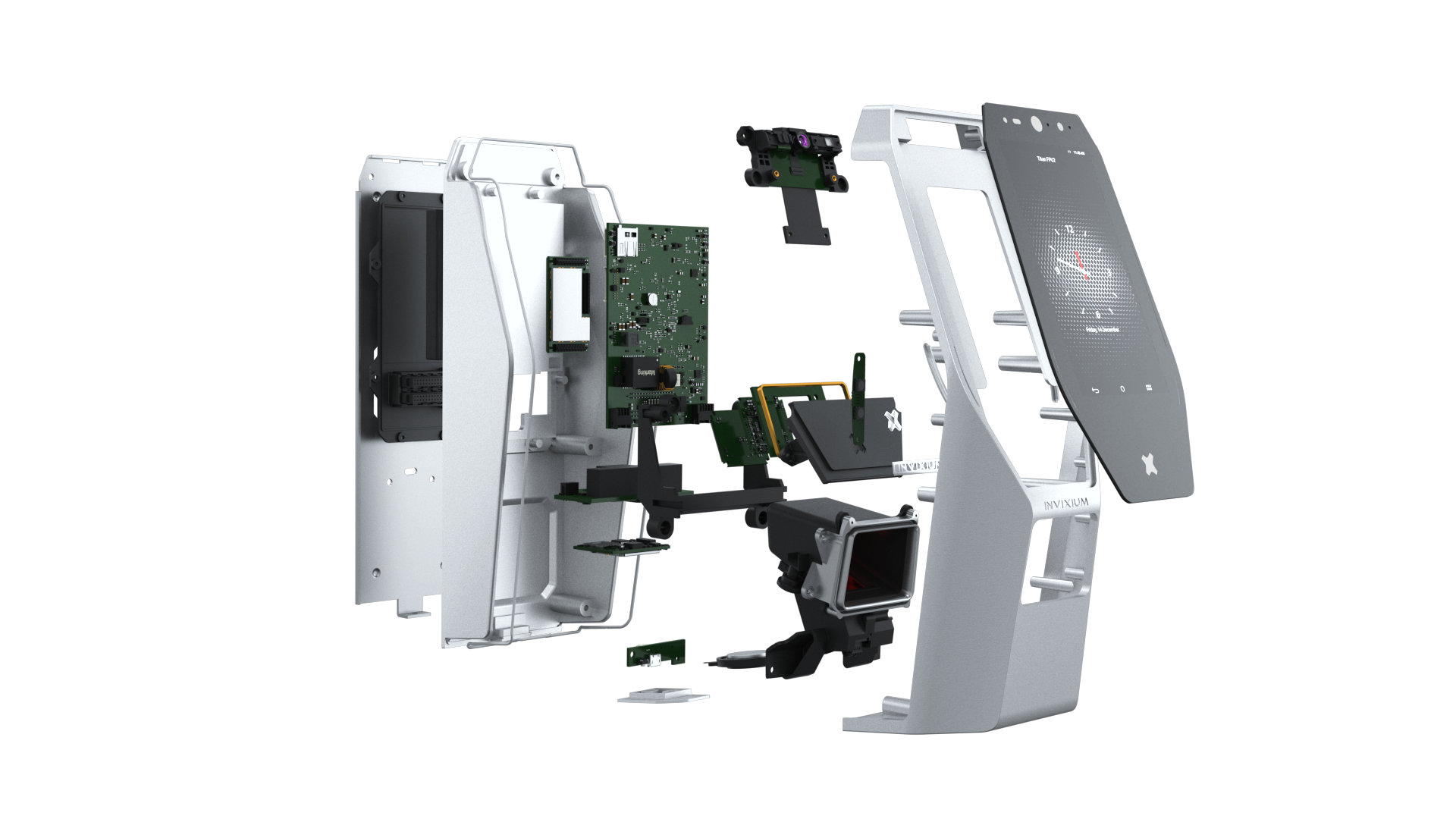 TITAN is powered by the 2.2 GHz Qualcomm Snapdragon 820, one of the most powerful processors available, ensuring superior connectivity, graphics, face detection, reliability and battery efficiency. It's also the level of processing muscle needed to accommodate TITAN's multimodal capabilities and impressive suite of features including: a 21MP camera for face recognition and video intercom; on-board storage of users and transactions; incredibly fast face and finger authentication in less than 1 second; up to 18 face recognition authentications per minute; and Wi-Fi, Bluetooth, NFC, and integrated 3G/LTE cellular connectivity. Whether used as a stand-alone solution in the field or networked to an Enterprise system, you can count on TITAN for the most demanding applications.
TITAN is one device with many functions
TITAN delivers the ultimate in identity authentication for access control and workforce management applications, but there's more. TITAN allows for enrollment directly from the 5.0-inch touchscreen by navigating to the enrollment app, ideal for stand-alone deployment in remote areas like construction sites, oil fields, mines or temporary deployments. And if you're in a remote location but need TITAN to be on your network, you can make the connection via cellular. Additionally, TITAN's large LCD can be used to display and broadcast messages to users, and you can upload .mp4 and .wav files for custom audio messaging. TITAN's hi-res 21MP camera also provides video surveillance and enables video intercom capabilities with DTMF for smart homes and buildings. It's a comprehensive end-point solution with great ROI and lower TCO.
There you have it – the top five reasons why TITAN should be your biometric solution of choice. We could go on, but if you've read this far, we've hopefully heightened your interest to learn more by visiting our website.