The COVID-19 pandemic forced many attractions like amusement parks and zoos to drastically change their way of operating or shut their doors entirely. The harm done to household-name and small parks is astronomical: the industry lost billions of dollars in revenue from ticket, concessions and merchandise sales, and tourism to major theme park cities worldwide vanished overnight. Now, with promising news regarding vaccine distribution, fewer new cases and hospitalizations and reduced mask rules, some theme parks are beginning to feel confident that they can welcome fans back through their doors this summer. To prepare for eager crowds, amusement park management needs to make many new security considerations to keep everyone safe – starting with their workforces.
Theme Parks Demand Competitive Security Solutions
Serving millions of guests per year with large workforces made up of temporary and permanent employees, theme parks pose some of the security industry's most daunting challenges for system integrators. Some of the top needs of security and IT managers at amusement parks are:
Streamlining and simplifying employee security
A theme park's security system needs to be able to handle a large staff – many of whom might work for companies other than the park owner, such as concessions workers or temporary actors or musicians. It should be fast and easy for many employees from different organizations to register for access control or time tracking and then use the system for the duration of their work at the park, whether that's just one weekend or multiple years on end. At amusement parks, it's essential for staff to get inside and get to work to prepare for the large crowds they expect.
Securing workers' personal data
Privacy is a top concern with any security system, but it becomes even more important when a system is used by hundreds of employees. Whether the system uses QR codes, bar codes, employees' personal phones, cards, PINs or biometrics, park management needs to know that their solution incorporates measures like encryption to prevent personal data theft.
Enhancing user experience with modern, visually appealing technology
Many theme parks are already on the path to digitization for both visitors and staff, so at minimum, parks should continue their transition to a digital experience that allows staff to do as much of the check-in process as possible remotely – to minimize bottlenecks or delays in getting to work. Where applicable, the technology used by amusement parks should be attractive to look at and easy to use, so the workers that interact with the technology have a positive experience.
Reducing overall security costs
With the massive decrease in revenue the industry experienced in 2020, theme parks' budgets are tighter than ever for 2021 and beyond. Cutting costs without sabotaging usability or security is critical, so park management is seeking automated solutions that perform more than one function – such as time tracking and temperature screening – to answer as many needs as possible with a single complete solution.
Protecting staff health while following government guidelines
Many governments still require temperature checks, masks, or personal attestation before entering a public venue. Theme parks must adhere to this guidance to keep everyone who passes through their doors healthy without compromising on any of the persisting needs above. The solutions park management choose for employee health screening, attestation and more need to be compatible with the high levels of speed and security these unique businesses need.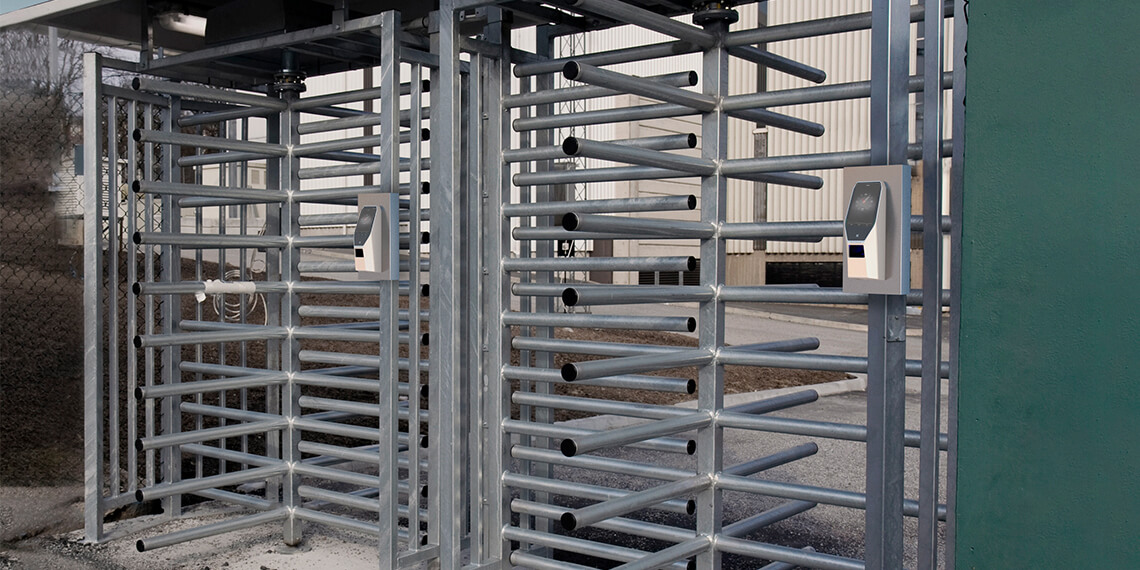 Biometric Access Control and Time Tracking Ensure A Smooth Ride
Invixium is a proud manufacturer of one of the most agile and adaptive solutions for healthy access: IXM TITAN with Enhancement Kit. This solution simultaneously performs face recognition, temperature screening and checks for masks for 12 – 15 people per minute, is designed to scale as new technologies emerge and new business needs arise. Please note that there are special considerations to be made when installing IXM TITAN outdoors:
Outdoor Installation Best Practices
For outdoor installs with direct exposure to sunlight, rain, or snow, an overhang for the product will be required.
The Lumidigm multispectral fingerprint sensor is recommended for all outdoor installations, available on IXM TITAN.
If the device is cold or frozen, do not attempt to power up. Allow the product to reach room temperature prior to applying power.
In colder temperatures, go ahead with the install when the device is at room temperature. Once powered on, the device will generate its own internal heat to continue running even in below freezing temperatures (rated to -20°C or below).
To maintain temperature accuracy of ± 0.5°C (0.9°F), the IXM TITAN with Enhancement Kit should only be installed in an area with an ambient temperature range of 10 – 40°C (50 – 95°F).
Our current products have been tested to comply with the industry rating of IP65 or IP67, which means that they are resistant against dust and water ingress when factory sealed.
Some of TITAN's solutions to modern problems facing today's amusement parks include:
Ruggedness to match the number of staff changeovers
TITAN's face recognition throughput is 15 to 18 people per minute, and with the Enhancement Kit, its temperature screening throughput is 12 to 15 users per minute. With that in mind, a single TITAN can clock in and screen temperatures of over 1,000 workers per hour so coming to work or heading home is a easy, pleasant experience.
Biometric template encryption and secure communication channels promote personal privacy
The biometric templates created and saved during enrollment for face recognition are always encrypted before storage in any Invixium device's database. Encrypted biometric templates and communication channel options (e.g. OSDP 2) assure management and employees that their biometrics cannot be hacked, stolen or copied from the device they use to gain access to or track time at the park.
A large database meets the needs of an equally large staff
IXM TITAN offers an industry-leading storage capacity of up to 100,000 individuals (1:N face recognition). This high amount of storage means that a theme park's entire staff, from security personnel to concessions, maintenance, cleaning and more can all enroll for rapid, automated face recognition for time and attendance or access control with more than enough space left over for the high turnover of temporary, seasonal employees – without any additional hardware to purchase.
A full range of user-friendly features improve staff quality of life
IXM TITAN can integrate with various hardware and software solutions, from turnstile gates to HRMS software. These integrations allow for a range of customizable workflows that make life easier for employees. For example, TITAN can keep a turnstile locked if a worker screens with an elevated body temperature while providing them with instructions to report to a security booth for further screening. Or IXM TITAN can communicate staff time tracking events to your HRMS to help with accurate payroll calculation.
Automation offers a one-time investment, while biometrics ensure security
Comparing the cost of TITAN to additional security personnel or hours worked to screen employees' temperatures before entering an amusement park, TITAN offers an incredible amount of savings over just one season. Biometrics are a high-end security option that are difficult to copy or steal, so they minimize the risk of accidental or intentional time theft – the cost of which can add up significantly when multiplied by the size of a theme park's staff.
Comprehensive health screening that can evolve with society's needs
Health screening with the Enhancement Kit is as easy as face recognition: stand in front of the device and let it do the work for you. With an accuracy of ± 0.5 ⁰C (0.9 ⁰F), management can rest assured that those who screen with a healthy temperature are, in fact, healthy. And with room to grow built-in, TITAN is ready to incorporate additional features that ensure the health and safety of every employee.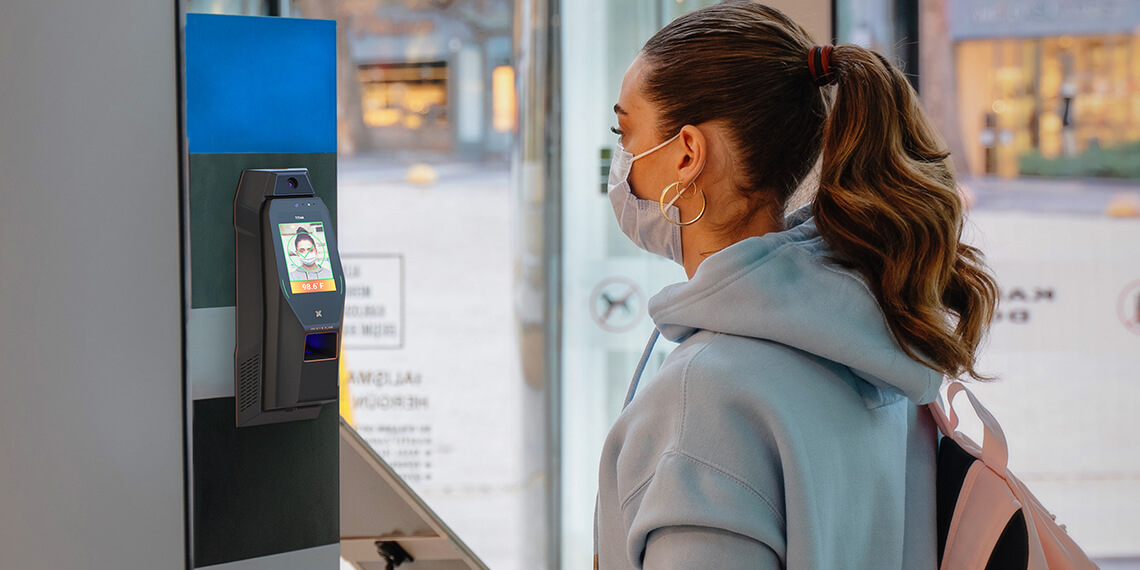 Invixium Solutions Are The "Strong Man" In Health And Security
IXM TITAN with Enhancement Kit meets amusement parks' most unique security needs. Invixium's intelligent dual-camera solution is a proven option that can help the theme parks industry optimize health, safety, productivity and security for their entire staff.
Our expert sales team is here to help you select the best solution for your business based on your needs for biometric access control, workforce management or visitor/employee screening. As always, Invixium strives to be your preferred biometric manufacturer by offering the finest technology on the market with knowledgeable guidance.
Contact us:
sales@invixium.com
For more information, visit:
invixium.com