The latest release of our web-based, cloud-ready biometric software application, IXM WEB, is available now.
Invixium has clients around the world that count on our IXM WEB software to give them all the data, security, and health-safety solutions that they need to run a safe and effective business. To continually ensure the best performance for our customers, we never stop working on software updates to improve functionality, eliminate bugs, and maintain our position as leaders in the biometric industry.
Our newest effort on that front is the IXM WEB 2.2.250.0 software update. Learn more about the new and improved experience you can enjoy at launch by reading about the most notable features of this update below.
IXM TFACE
IXM TFACE offers high-speed face recognition with or without masks, a 500dpi optical fingerprint sensor, a QR reader, and a voice command feature to make touchless, convenient security a reality for your location. We have added support for this incredible new model in IXM WEB so you can have an even better experience with this innovative dual-biometric device.
IXM Mobile
IXM Mobile allows users to have advanced access control and workforce management solutions at their fingertips via an easy-to-use phone application. By adding support for this tool in our latest IXM WEB update, IXM Mobile is now even easier to use for your business, saving you time and money while helping you to better protect your staff.
Visitor Management
IXM Visitor is a licensed feature of IXM WEB that utilizes the power of biometrics to optimize the way you secure your business. Our visitor management software offers unmatched control over the entrances of your building, whether you want to log every visitor for record-keeping, keep track of COVID symptoms, add a guest credential system, or anything in between. For a truly next-level front desk experience that improves your productivity and safety, look no further than IXM Visitor.
More Access Control Panel Integrations
Here at Invixium, we aim to make our products as versatile as possible. So, in this update, we are proud to expand our access control panel support to include industry-leading options like:
WIN-PAK by Honeywell

AEOS by Nedap

DNA Fusion by Open Options
Stay tuned to future updates, as we will continually expand our integrations to be compatible with the best access control brands on the market.
Single-Sign-On Capability
Single Sign-On (SSO) is a higher security authentication method that can use a single set of user credentials to access multiple applications. With this software update, users can now use this more secure option during IXM WEB logins.
Updated Configuration Settings
We have added new configuration settings for various features, including custom card layout for MIFARE/DESFire, QR Codes, Pro-Watch by Honeywell, weekly overtime calculations in IXM Time, and more.
Why Should You Upgrade?
On top of the features listed above, installing the new version of IXM WEB is the best way to protect your organization from the latest threats. Based on the metrics shown below, upgrading will greatly reduce the vulnerability of your biometric system.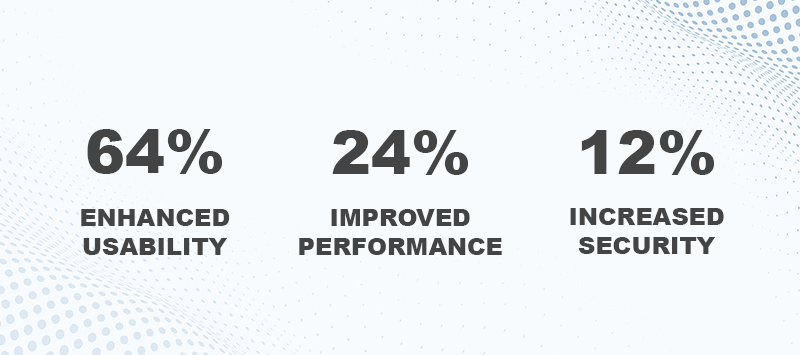 IXM WEB updates in under 5 minutes and firmware updates of devices can be scheduled to update overnight, making it easy to fit into your schedule and avoid disruptions. If you are currently running IXM WEB version v1.5, v1.7, v2.0, or v2.1, note that they are being discontinued and no longer supported at this time.
For full details on this release, visit our IXM WEB or click here to download.
Our expert sales team is here to help you select the best solution for your business based on your needs for biometric access control, workforce management, or visitor/employee screening. As always, Invixium strives to be your preferred biometric manufacturer by offering the finest technology on the market with knowledgeable guidance.
Contact us:
sales@invixium.com
For more information, visit:
invixium.com