Almost every industry is bracing for the potential consequences of the Coronavirus pandemic, a worldwide threat that many of us are experiencing as a first in our lifetime. The travel industry has already been directly affected as families and business travelers cancel plans, yet some industries will be indirectly impacted by the ripple effects; fewer office dwellers spending money in the morning and during their lunch breaks at local coffee shops, cafes, and stores as an increasing number of large companies require or encourage employees to work from home during this crisis. As biometric security industry veterans, we in the security industry begin to contemplate what effects this pandemic will have on our industry specifically. ISC West, the largest tradeshow for the Security Industry has already been postponed, a move which is unprecedented in recent history, but also we contemplate if this will fundamentally change how users view devices like our own fingerprint biometric readers.
State and local governments in India and other countries have issued directives to businesses to (at least temporarily) cease the use of fingerprint biometrics in the face of the Coronavirus threat. As experts in the biometric industry, we note that there is one obvious downfall to this thinking. Our sales team has been in countless meetings where the question is asked "Do employees really want to touch something that every other employee has touched?" and this objection has a simple answer which is "Dear customer, how many other surfaces do you touch that every other employee has touched (i.e. door handles, light switches, conference room equipment, refrigerator handle in a shared lunchroom, etc.)?" This simple argument should easily overcome the objection during normal times, but the crisis of the moment makes our current situation anything but normal. No doubt it would be reasonable for companies to take additional measures to periodically sanitize door handles and other frequently touched surfaces. Likewise, users of fingerprint biometric devices might be wise to use alcohol-based sterilizing wipes to periodically clean the fingerprint sensors and touchscreens of fingerprint biometric devices. Biometric devices are typically deployed where additional security is required and as such we would not recommend to our customers to abandon the additional security provided by biometrics; after all, a crisis like COVID-19 might be the perfect opportunity for malicious actors to exploit weaknesses and distractions. Also, during this time of economic uncertainty enterprises and industries will be forced to do more with less and hence biometric time tracking of workforces is all the more important instead of resorting to antiquated means that could have a direct impact on lost productivity.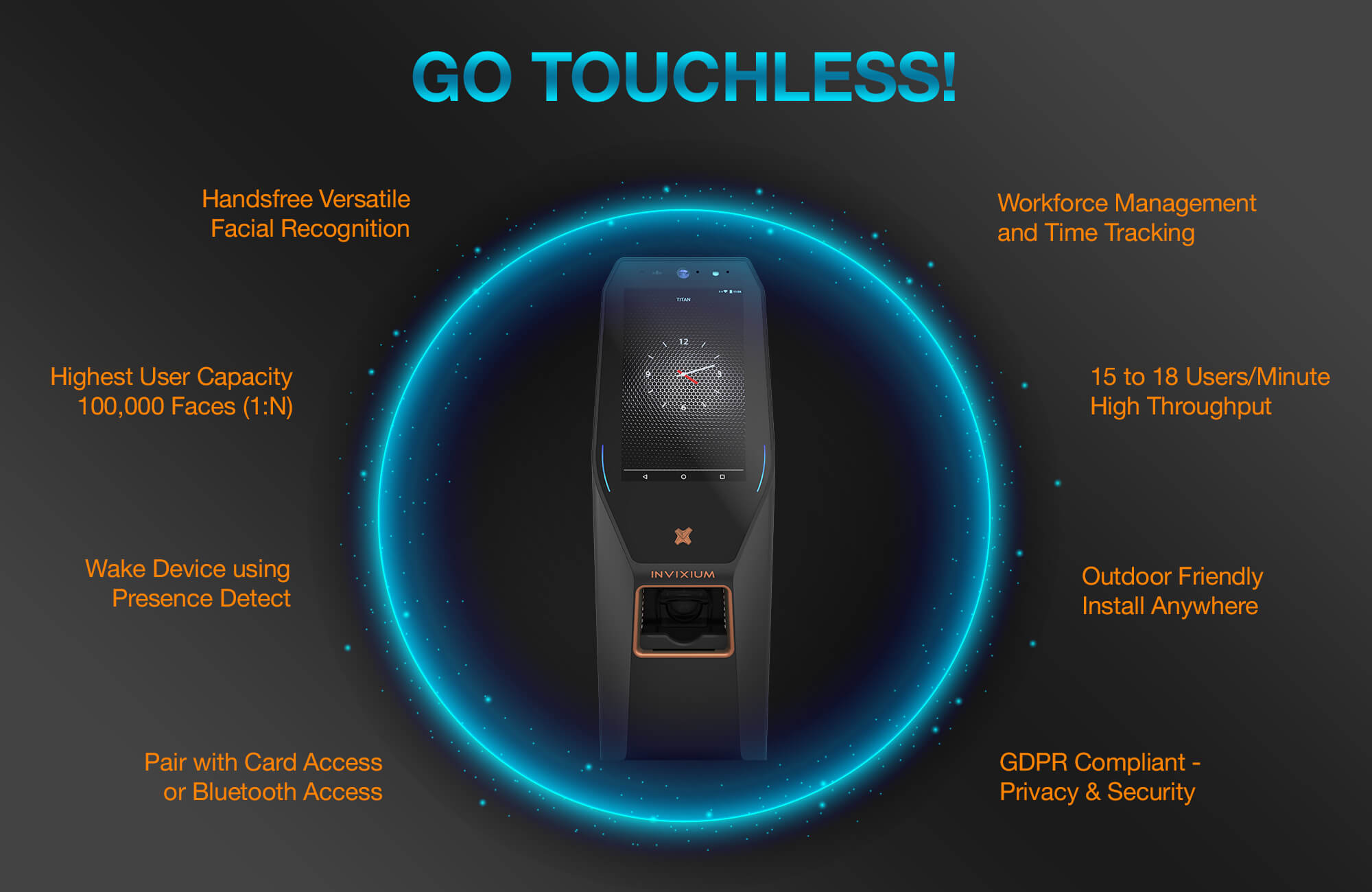 A trend that was already underway before the proliferation of COVID-19 is a shift to touchless biometric technologies. There are many touchless technologies on the market; facial recognition, iris scanners, touchless fingerprint/palmprint, and touchless vascular recognition. At Invixium, we pride ourselves in our deep knowledge and expertise of various biometric technologies and routinely ask the question "what *should* customers be using?" rather than "what is the customer asking for?" This forward-leaning question compels us towards facial recognition technology for touchless biometrics. Some considerations that bring us to this conclusion are ease-of-use, all-round performance and suitability for different environments. Touchless fingerprint, palmprint, and vascular recognition are not suitable for outdoor environments generally, let alone any type of rugged environment like construction sites or refineries. Iris technology tends to be difficult to use due to the requirement for the user to bring their eye quite close to the scanner and remain very still without blinking. Iris scanning also can offer a very low level of performance for users with very light-colored eyes, as they have difficulty when there are reflections in the eye, and frequently exposing the eye to infrared light can be dangerous to the health of users' eyes.
In leading with facial recognition as our solution for touchless biometrics, Invixium offers IXM TITAN. TITAN is first and foremost the most powerful facial recognition device on the market with a 1:N capacity of 100,000 users and an identification speed of less than 1 second. TITAN is a device that is suitable for any industry, even in the harshest outdoor environment, yet elegantly blends with even the most sophisticated indoor space. Users of TITAN have the option of combining up to 4 factors of authentication but if the driving-need is for touchless technology, customers can leverage a powerful one-to-many matching or easily implement dual-factor authentication with Card + Face. While facial recognition has gained some notoriety as of late, it's important to understand that not all facial recognition technology is the scary kind; facial recognition technology used in conjunction with CCTV video for potential mass surveillance or passive tracking of people no-doubt raises some hairs on the back of the neck. What facial recognition devices like TITAN do is very different. Users must first consent to be enrolled, biometric templates are stored securely within a completely closed system owned and managed by the end-user, and users have to present themselves to the device to be recognized. When in 1:1 mode, the camera on TITAN is not active until a user presents their access card. Lastly, TITAN works seamlessly within a whole ecosystem of biometric devices offered by Invixium, giving the customer the ability to choose from a wide portfolio of products.
In summary, a few key takeaways would be:
COVID-19 is daunting only because it's unknown but some data suggests that the virus is not much more virulent or deadly than common illnesses like the flu.
Everyone can take reasonable precautions to avoid contracting and spreading the illness including frequent hand washing, using alcohol-based hand sanitizer and cleaning frequently touched surfaces with sanitizing wipes.
We don't recommend abandoning the use of existing fingerprint devices but as with any other surface that is touched frequently, normal precautions should include cleaning the surface of the fingerprint sensor with alcohol-based wipes.
Touchless biometric products have been gaining popularity even before the Coronavirus outbreak and we expect this trend to accelerate perhaps due to fear of future contagions more so that then the current pandemic.
When choosing a touchless biometric solution, we recommend facial recognition due to ease-of-use, performance, the availability of products like TITAN which are suitable for different environments.
Our expert sales team is here to help you through tough decisions concerning your use of biometrics or your larger security and workforce management scheme. As always, we hope to be your favorite biometric partner not only by offering the best technologies available anywhere in the world but by bringing you the knowledge and guidance to make well-informed decisions and strive to bring you a full portfolio of options that work seamlessly together as part of a single ecosystem and a well-thought-out physical security and workforce management plan. Contact your local Invixium salesperson to learn more about our perspective on the COVID-19 outbreak, what precautions you should take, and how you can transition to using touchless biometrics.