Security management has evolved over the last several years to increase the efficiency of building systems and operations. COVID-19 has radically changed what we understood as best-practices in our industry, and we are once again preparing to adapt; this time, to a vaccinated society. "What's next?" is a question I answer frequently. To me, the clear answer is this: businesses need adaptive, intelligent systems to address workplace health, safety, security and productivity in the long-term.
We have a good understanding of what our industry needed pre-2020. The conversation at the time focused on fast throughput, analytics and automation. While these features are still in high demand today, the reason why our customers demand them has shifted from productivity and cost-savings to something more dire: employee and visitor health. History shows that pandemics are becoming more frequent, so security leaders must be prepared well before the next far-reaching outbreak of illness strikes us. Allow me to share with you a few ways I believe we can achieve this.
High Throughput Simplifies Multi-Layered Shift Changes
High throughput gets employees in the door and to work quickly. That is still true! But consider the benefit of high throughput when you add a now-common layer to your security system: temperature screening. Envision a large shift change – approximately 300 people – and force that shift to go through manual temperature screening with a temperature gun and paper logbook one-by-one. What was once a quick shift change now takes hours. Add that up over the entire length of the pandemic, and our hypothetical business has lost over 1,000 hours of productivity because necessary health screening measures slowed them down. This is not sustainable.
Look for solutions with high throughput as you plan your future security system, and your staff and visitors will thank you. Shift changes or gaining access should never cause anxiety from the technology used or the time it takes to get in the door. Your system needs to be user-friendly to achieve the most benefit possible. Limit the time it takes to get to work or visit your building, erase long lines in your lobby and keep people moving seamlessly with equal parts fast and accurate systems, such as walk-through monitors or automated screening kiosks.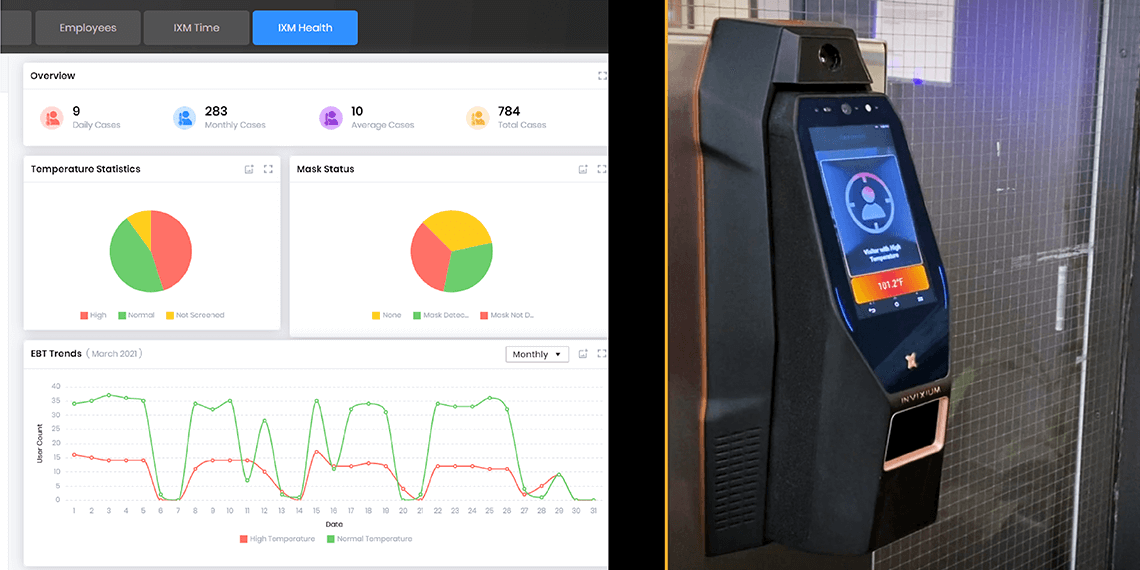 Analytics Help Achieve Smart Security
Analytics software is not just for smart buildings – though I feel every building should be "smart" to some degree in 2021! Before COVID-19, many businesses were using security analytics to monitor doors, manage employees and more. Since COVID-19, our industry has seen a sudden inclusion of health-monitoring software. While small businesses are using pen-and-paper logs to track temperature screening or building capacity, new software cropped up throughout the year to log daily temperature screening data, count the number of people who enter and exit a building and perform contact tracing. All of these are valuable solutions depending on each business's unique needs, and the "right" software for you is the one that adapts best to your specific use case.
It's one thing to have software that tracks and audits data. It's something else entirely to invest in software that can perform deep analysis for you. Consider what you could do if your security analytics software integrated with your temperature screening solution. Your software would aggregate temperature screening results over time – anonymously, if you choose – so you can monitor trends and take any steps you feel are necessary if someone arrives at your business with an elevated body temperature. You could advise staff who were present at the time to self-monitor symptoms in a proactive effort to limit the spread of illness, safeguarding your healthy building at the first sense of potential danger.
Automation: The Need of Every Moment
If we spoke in 2019, I would have said that automation is one of the biggest trends in security right now. Two years later, I don't necessarily disagree with that statement. However, I do believe automation means more now than it did before the pandemic. For most of our customers, it comes down to both cost and sanitation. The pandemic has made security costs go up as businesses purchase new equipment, pay more working hours for security or HR staff and restructure their businesses to accommodate work from home and social distancing in offices. Automation can bring these costs back down. Rather than hire someone new to screen temperatures, administer health questionnaires and check for masks, a self-contained, automated solution like a kiosk, camera or walk-through scanner can do the same job. Automated solutions can do all this in less time, mitigating bottlenecks in small waiting areas or lobbies that can't handle social distancing rules.
Leaders must also consider that your users don't want to touch anything anymore. A questionnaire on a touch screen feels counterintuitive if you're asking someone to report symptoms while touching a communal surface. Instead, a touchless solution like face recognition or thermography can grant access and screen temperature while automated voice-recognition questionnaires or mobile-app surveys completed on one's personal device can satisfy your need for health screening questions without forcing anyone to touch anything. In my mind, automated solutions with common-sense processes benefit everyone involved by simplifying your entire health-security protocol.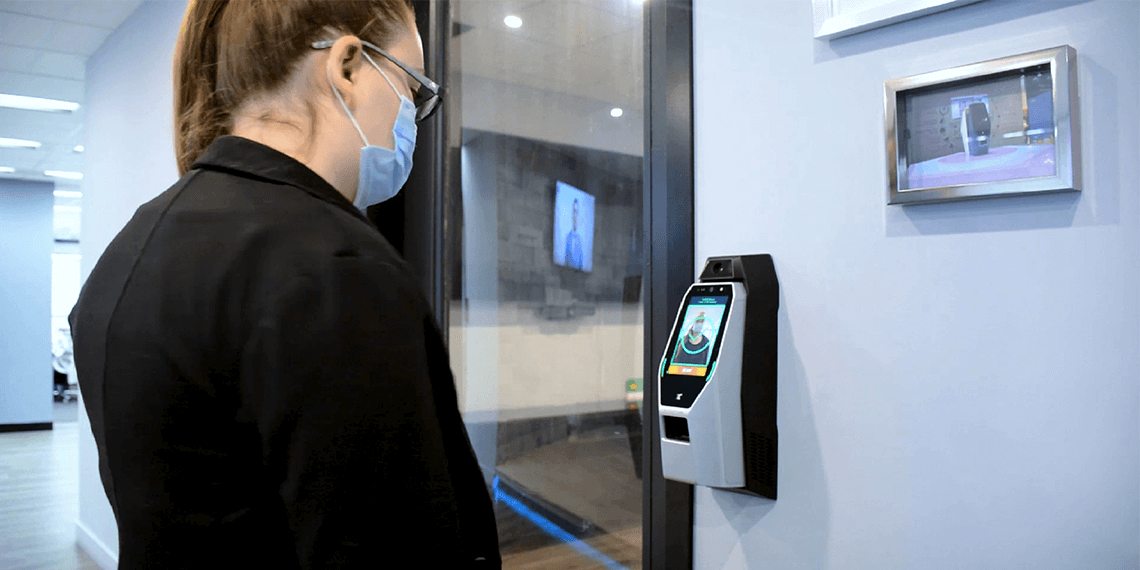 Modern Features Seal the Deal
As the world continues to move through the pandemic, the positive news surrounding vaccines brings new challenges and reduces others. In the United States, the CDC has stated people do not have to quarantine after exposure if they are fully vaccinated. This guidance might mean businesses with vaccinated staff and visitors can ease up on temperature screening because the financial risk of an outbreak is much lower when quarantine isn't required. But face masks and questionnaires are still critical until we know more about immunity so our staff and visitors can feel comfortable at work. Intelligent security solutions can authenticate users and detect face masks faster than human security personnel while offering analytics to help you make decisions based on captured data. That is why mask detection and health analytics are a critical part of my vision for 2021.
Furthermore, mask mandates and the population's aversion to touch brought to market yet another innovative security solution for the pandemic: face recognition while wearing a mask. I know many people who have expressed wanting to continue wearing masks in public during future flu seasons to protect themselves, so this is an important element to keep an eye on for the future of healthy building security. With face recognition while wearing a mask, your staff and visitors can be authenticated without removing their masks or touching any shared surface – this process is an absolute game changer for healthy lobbies. This monumental endeavor required our industry to quickly adjust our facial recognition algorithms. Rather than simply move from fingerprint to facial recognition, solutions suddenly had to be retuned in record time to accommodate people with half of their faces covered.
In my mind, mask-inclusive technology non-negotiable. Plenty of businesses rely on security personnel to enforce mask mandates, but if you have large shifts or many doors, you will need to rely on more people to manage who is entering your building. With an automated solution, you give your existing security staff peace of mind that the job is getting done, and you can prevent a door from opening for someone without a mask. This simple, powerful option provides large businesses with a fast and easy solution to a pandemic-related security measure that will persist throughout the year.
Securing the Future for Your Healthy Building
The pandemic has left us with new challenges at every moment, and the world hasn't quite finished changing yet. An agile security partner will understand that your needs will evolve as we move forward as a society. While more challenges continue to emerge, some solutions from 2020 will be left behind. As a disruptive company, it is our job to commit to a clear vision for "what's next" in our industry. Right now, touchless technologies like face recognition with and without masks and modern solutions like health analytics are how we can continue to protect our staff, visitors and communities. At Invixium, we take pride in our bold vision for what's to come and our ability to quickly innovate – so more people all over the world can return to their lives safely.
Contact us:
sales@invixium.com
For more information, visit:
invixium.com