If you have already seen the industry defining video of IXM TITAN operating in the harshest of conditions at a construction site, then you might be interested in reading this blog to see how the video came to be. For those belonging to the time tracking and access control industries who have yet to see this video (Seriously? Have you been living under a rock), we urge you to click play before continuing.
IXM TITAN was launched boldly in 2018, and proclaimed to be "The Most Advanced Biometric Product Ever Engineered". The product made an instant impact, sending shock-waves across the industry and winning the hearts of distributors, installers and customers for its elegant design, rugged construction and revolutionary features. The market introduction of a product with such aggressive technical specifications and a premium price point made it seem almost too good to be true. Everyone wanted to know more about the TITAN but only a few believed in its prowess.
We had to somehow show the world what TITAN is capable of and that it could live up to the expectations.
Based on a request for a PoC (Proof of Concept) from a potential customer, we scoured for an ideal locale and discovered the perfect spot in an Indian metro city. TITANs were installed at a live construction site where traditional biometric products have failed to work consistently. Mounted on portable stainless-steel stands, the TITANs were used for authentication and time tracking of all the workers at the site, every morning and evening. The testing was done over a period of 4 weeks for performance reporting of various features such as face recognition in bright sunlight as well as total darkness, liveness detection, data transfer over 4G cellular connectivity, throughput speed, battery performance, water and impact testing, fingerprint authentication with poor fingers and more. All workers enrolled their face as well as their fingerprints. Fast data transfer was achieved via 4G cellular connectivity to a laptop where IXM WEB was installed. The administrator was able to remotely monitor the attendance without having to be present at the site. This allowed for time and attendance reporting straight from IXM WEB for payroll management of the workers.
The building management was fascinated by the simplicity of the solution and could already see the ROI over the long term. In addition to the costs saved by preventing time theft, IXM TITAN also boosts efficiency because of the high throughput rate of more than 15 people per minute. This reduces the long queues at the beginning and end of every shift, saving time and thus money for the organisation as well as the workers. See below for expected ROI in 1 year when using Invixium Time Tracking Solutions: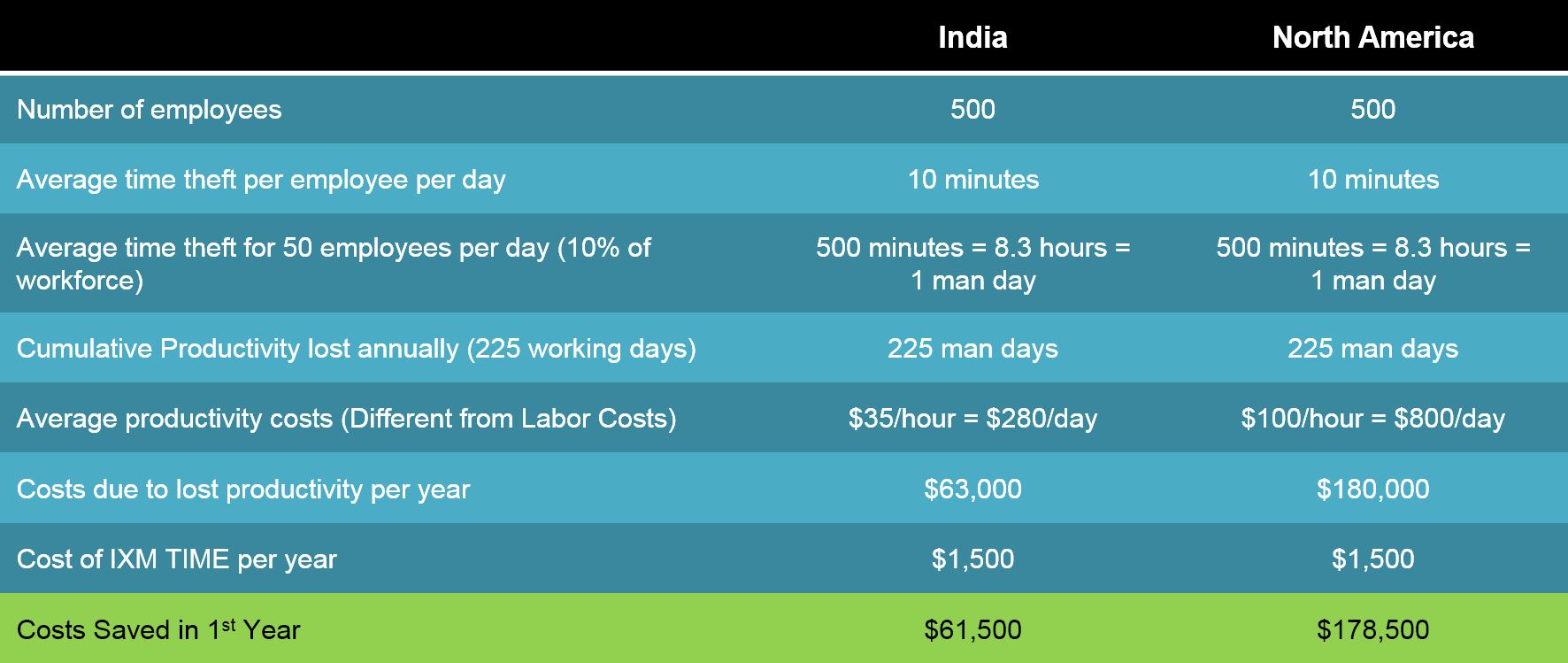 Based on the initial results of the PoC, TITAN delivered exemplary results in a real life deployment scenario. Since the release of the video in early January, the demand of TITAN has skyrocketed!
Invixium solutions are designed to be the best-in-class and deliver extended value through improved efficiency and enhanced productivity. Some of the clear advantages include:
Improved safety due to biometrics – no time theft and buddy punching; audit trail and traceability; muster reports during emergencies and disasters
Enhanced productivity and workforce management for companies
Reduced waste – low paper consumption; eliminates plastic cards, keys, fobs, etc.
Lower costs – reduced insurance costs, ROI in first year
Social sustainability – precise payroll management, fast moving queues
If you are a distributor, installer or customer interested in purchasing the Invixium solutions, please reach out to us at sales@invixium.com or experience@invixium.com and we will be happy to assist. If you would like to get a demo of the product, visit us at the ISC West Expo in Las Vegas from April 10-12, 2019. Get your free passes here.
For all other details, visit:
invixium.com